Memories of Warsaw Poland…
Warsaw – Wow what a big City, lots of hustle and bustle – not my favorite. I also arrived late in the night when everything was closed and public transportation was almost non-existent. I couldn't even hail a taxi, even though I saw several drive right past me. Finally found someone to ask for directions and he shared his taxi with me. Apparently no charge – it was a "service" taxi. Got to my place after that no problem and had a great stay, but it was a little scary for a bit there. Beautiful weather though and big views.
Worth searching out are some hidden places: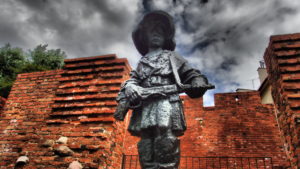 The Statue of Little Insurgent off of the main square depicts a young boy holding a submachine gun & wearing a helmet too big for him. This is a commemoration of the child soldiers who fought/died during the 44' Warsaw Uprising.
I really enjoyed the Fotoplastikon Warszawski, definitely not on the "normal" tourist brochures. It's a throwback to the turn of the century when 3D slides were all the rage. This is the oldest in Europe built and in the same location since 1905. You sit around a large round structure that has lights inside and the turntable moves around in a circle pausing at your viewer for 15 seconds. There are 24 stereoscopic slides. They rotate the shows, the one I saw was on 1950's Yugoslavia, Fascinating. Along the same line is the Neon Museum, showing Russian Cold War era signage in a broken down setting. Also worth searching out in Warsaw is the Holy Cross Church where Frédéric Chopin Heart is, No really, his heart is buried there. Be sure to go to see the Bronze Chopin Statue in Łazienki Park. When I was there a school field trip was happening and there were live musicians playing his music – magical. The Botanical Gardens and Observatory are there too – I wish I was here in full spring for the colors but it was still beautiful.
As far as food goes, find the 1954 Prasowy Milk Bar. I ate a traditional, old school lunch w/two nice ladies (it was mother's day so they were celebrating). I had Karkowka W Sosie (Pork steak w/Gravy) & Mashed Potatoes, surowka wielowarzywna (cabbage salad), Zeimniaki Z dodatkami (which I think was the Beet Salad) – all for 16,90z & they let me try their traditional beetroot soup, also very good.
Travel Tip: There are several Milk Bars in Warsaw and each has their own characteristics, but they all serve an old school peoples meal. Fast, inexpensive & hearty. And yes they serve Milk, thicker than you would expect. This is a true slice of the local's life.
I also enjoyed some of the best Pierogi's at Zapiecek Restaurant (more expensive then at the Milk Bar but huge selection) also the grilled Polish Sausage, Kielbasa, was excellent.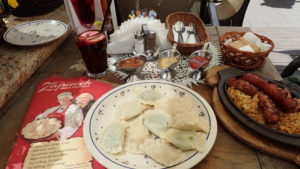 No matter where I am, I always look for the lines of people – they tell you what the locals know. I found the most wonderful bakery (Galeria Wypieków Piotr Lubaszka) because of the line and had lunch for only 6z. Be adventurous and stand in the cue, watch what folks are walking away with and point for the same – you may not know what you ordered but 99.9% of the time it will be excellent. I waited for 40 min in line, when I was in Korea, for the best steamed desert buns I have ever had.
Old Town is nice to walk around, lot's of shops & restaurants as would be expected. There is a market also w/painters and artists (note the "accordion kids" are sent out by mom – it's a hustle). Near here you will also find Warsaw Uprising Monument in Krasiński Square. The baroque Krasiński Palace is also there, very interesting.
You can't miss the Russian Built Palace of Culture and Science, its towering presence is right in the middle of Central Station near the Train Station (the Warsaw Fotoplasikon is near there also). I took the tram line all around and could see it in the distance all the time. Found a beautiful park on my way to Old Town, Ogród Krasińskich – with its water features and labyrinth of footpaths. Nice diversion from the City.
The National Stadium Warsaw boasts 58,000 seats and has a retractable roof. If you can catch a football game, you are in for a real treat. They also do concerts there. It is located along the Vistula River where you can also see the Railway Bridge Średnicowy. Most tourists go to the Łazienki Royal Residence, I preferred walking around the Botanical Gardens – but the Palace is beautiful and worth a visit, if that is your thing. Note – hidden away in the underground street path at the main intersection by the
In Warsaw's Łazienki Park an Entrepreneur has opened a bar – definitely a great place for a pint after walking around the City so much.
Five for Free:
Chopin Monument
Statue of Little Insurgent
Holy Cross Church w/Chopin Heart
Warsaw Uprising Statue
Museum on the Vistula
Five ways to Save Money:
Tram #9 & Tram #18 T/Cross to everything
Prasowy Milk Bar (a filling low cost meal)
Fotoplastikon Warszawski
The Royal Castle in Warsaw Museum is free on Sundays
Take the free walking tour
TripAdvisor Reviews:
Zapiecek Restaurant
Fotoplastikon Warsaw
Prasowy Milk Bar
Food to Try: Paczek (donut) or Paczki, Polish Sausage (kielbasa), Vodka (of course), Pierogi & Pyzy dumpling.
Be sure to Check out my TripAdvisor Reviews (please add a "Helpful Vote") and YouTube Channel which will give even more detailed insight…