On April 5, 2019 I Officially Have Been Traveling for 1 Year Abroad.  I have had the fortunate opportunity to travel in 25 countries & visited 103 cities. Have collected more experiences that I thought possible and this is only the beginning. I've met and or Traveled with 16 friends and family and Lost count all of the new friends I have met along the way.
I have realized on this Walkabout that I have become the ultimate minimalist. I own nothing but what is in my 10 kg backpack and the few items that I consider most important, in a very small storage room, back in the USA. Yet I want for nothing – I don't buy souvenirs, just some jewelry and take only photographs and keep all the memories.  My carbon footprint has decreased considerably.  I walk most of the time (5-18 miles a day) or take public transportation. And I am starting to do Yoga.  Which in turn has made me so much healthier, bonus I have lost 26 pounds, since January when I started this current leg of the Journey.  I have been able to go off all pills except for my Simvastatin.  And I'm stronger than I have been in years.  I primarily eat street food & local cuisine, although I do cook for myself on occasion.  I certainly eat much less meat – mostly fish, vegetables & chicken.
I stay mostly in Airbnb's, which saves me money and more importantly, allows me to get in touch with and immerse myself in the local culture.  I see, eat & Experience everything it has to offer.  If I am not in an Airbnb then I'm in a Hostel, which offers me the chance to connect with fellow travelers, plus it is an excellent way to save even more money.  And, yes, I do stay in Hotels, too.  A little bit of luxury goes a long way.
This truly has become a lifestyle, not a vacation.  And I am flourishing.  I am in complete control of my life. Only being affected by the weather, but even that is not generally a factor in that I have nothing but time.  Plus, one of my saying is "If you don't plan, you don't miss anything".  So, this give me permission to not do something because I didn't know it was an opportunity, but also allows me to discover Experiences I never could have researched or "paid" for.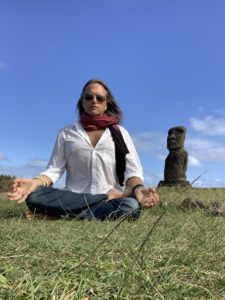 This is also perfect for my mental and spiritual health.  I have let go of all obligations and worries.  I have let go of the past – it cannot be changed and live only in the now and what is coming next.  I typically do not know where I will be after about two weeks, giving me a chance to just stay someplace if I want more time or not leave my residence and do nothing.  I never feel like I must "do everything" and rush from place to place, as most traveler do (especially Americans).  I can sit, relax and just breath.  Amazing concept….
What I really enjoy, is that I have inspired and encouraged.  So many people want to know "how" and as an open book I tell them everything.  But understand this lifestyle is not for everyone.  I have come up with the three things you need to be a Nomad:
-Financial Means
-Opportunity
-Tenacity (Drive/Persistence) & Doesn't Hurt to Have Some Practice/Skills
Retrospective – would I change anything and do it all again?  Absolutely!  I think it is important to travel, explore and have new experiences.  It only makes you a better person and breaks down so so so many barriers.  Learning how other cultures live, gives you understanding.  And with understanding comes communication.  And with communication we all become closer.  I have heard time and time again "you are welcome in my country" and I truly appreciate it and try to live up to the complement.  I just had a Syrian falafel vendor in Chile tell me "God blesses you on your journey and safe travels my friend".
I Love My Life.