The Perfect four-day weekend in Tulum Yucatán Mexico
Here is Exactly what to do for a Perfect four-day weekend in Tulum. Quick and easy flights from the USA make this an excellent long weekend getaway. So, let's get Decompressing….
Thursday:
Plan to arrive early & check into your room. If you don't mind a Firm Bed, I recommend "La Palmita". It's in the perfect location. Close to the bus station, ATM across the street, bike rentals & laundry on block over, the best tacos in the Yucatán directly across the street & the best Mojitos in Tulum one side street over. The staff is friendly & efficient, rooms are comfy and affordable. If your room is not ready yet, they will check your bag so you can start relaxing. First go to the ATM and get cash. Next call Mur Mur and make a reservation for Saturday at 18:00.
Now time to Experience Tulum. First a Drink and then Shopping (get your Shopping done now, besides you need a Hat, New Day Bag & a Beautiful Dream Catcher to remind you of your time in Mexico). Explore, just walk up one side of the main street and back the other. Check out the Specials of the Day or what is Standing out on the Chalkboards that line the street. Get a drink or three and just don't worry. I always suggest going where the lines are. I can't tell you how many queues I've gotten in with absolutely no idea what I was about to order, 99% of the time it is Amazing…
With that being said – It's time to really get your eat and drink on. Drop the shopping bags at the room and find the side street that is packed with a genuine cool vibe and easy to find "Batey" bar for Music & Mojitos, just pull up a stool at the front bar & enjoy the moment. Fresh made to order Mojitos (yes that is a sugar cane juicing machine over there giving you the freshest sweetener possible). But Save room – trust me, you are about to get your eat on, in a serious way.
Just down the main street is "Burrito Amor". Again, find a stool or a table if possible. Order literally anything on menu and enjoy the Love that is Burrito Amor. My favorites are the Smoked Pork/Pineapple, Scrambled Eggs/Nopal marinated in Epazote dressing/Cheese & the Shrimp Burritos. Order one of each and have a meal to share. Finally wash it down with a Pineapple Smoothie or Jamaica (Hibiscus Tea) or Flute of Flowers and a shot of Herradura Anejo Tequila…
Back to "Batey", it's busier now but you know your way around and understand the vibe – join in & try a Guarapov for a nice change… Finally, to bed – get a good night sleep. Well after taking care of your companion 1st of course.
Friday:
Up early for breakfast at "Taqueria Honorio", right across the street from La Palmita. Find a stool up front or a table under the canopy and order Cochinita Pibil w/Original Lechon skin. Boom, that is Amazing street food. Cochinita Pibil is truly a Yucatán thing. When done correctly it takes several days to make, with marinating and then being buried to slow cook. It's a Must try & Taqueria Honorio is one of the best in the Yucatán.
Now flag down a taxi and arrive at the Tulum Ruins by 7:40. Taxis are regulated so it's a flat rate (currently 120pesos), but always confirm the price before getting in. It takes less than 10 minutes to arrive at the gate but another 10 min to walk to the ticket booth. Be sure to bring a camera, hat, bathing suit, towel, sunglasses & sunscreen. By arriving early, at 8:00 when the gates open, you will have the place almost to yourself and enjoy the cooler part of the day. You will need @2 hours to explore the ruins on your own or hire a guide – your preference. But by now the lifeguard will be in place and you can go down to the beach and spend another hour or two. The mammal you see is a Coatis.
Back to the room, shower and regroup/relax.
Back to Batey, yes, it's that good. Have one drink and then head to "Sabor De Mar". Order something you can't pronounce or the Special of the House. Really a special place.
On your way back to the room stop by "Panna e Cioccolato" for some really excellent ice cream. Pistachio is to Die For & do try Chocolate/Hot Pepper…
Saturday
Sleep in, no really – when was the last time you did that…
Taxi down to the beach and have a snack of Grilled Lobster &/or Octopus at "Playa Paraiso" and couple of drinks up the beach at the "Pop-Up". Stunningly Beautiful. Ask if there is a Full Moon Party – if so, plan to come back after dinner. Head South – hang out at "La Zebra" and really be transported to another world.
If you went swimming or just want to freshen up before dinner – just remember it's only 10-12 minutes to anywhere between Centro or the Beach. So, it's quick and easy to bounce between the two & at only $6us a pop it's not too bad. Be sure to be at "Mur Mur" by 18:00 – I suggest the namesake Drink the Mur Mur &/or La Flor (little spicy). The menu changes based on what is available locally and fresh – but the Catch of the Day is always a Safe bet, however anything you order will be great. Ask the Waiter if there is a Special or something new the Chef has created. It's a beautiful night. If the Full Moon Party is happening – head back to Playa Paraiso if not you decide…
I do suggest checking out the center square if it's not too late, there is usually a "Marquesitas" Cart somewhere nearby. Order one – which cheese. So damn good, Perfect end to the day.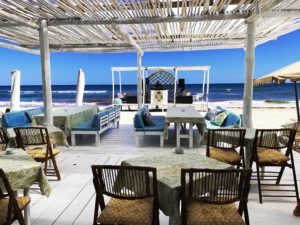 Sunday
Up early and do some Yoga at "Kaan Luum Lagoon" – Hydrate and Relax Mind Body & Soul.
Shower & check out of hotel by 11am. Have a Smoothie at "DelCielo". And finally, don't under any circumstances, miss this, "Antojitos La Chiapaneca" for El Pastor w/Queso & a Victoria beer. Sit at the counter for a breeze and a show.
Now head back to reality and plan on coming back a few more times…
Pack list: small sunscreen and insect repellent although skin so soft is perfect. Think white lightweight linens which dry quickly & don't matter if get wrinkled, sandals and sunglasses.
How much money? Well – four days at La Palmita, all the solo meals & drinks mentioned (& I drink a lot), entrance fees to Tulum & Kaan Lumm Lagoon, taxis, plus the bus to & from Cancun Airport I spent $339.57
Be sure to Check out my Visions of Tulum for Visual Inspiration for your Trip to Tulum: