Memories of Krakow Poland, I loved this town with its Walled City, Old Town, Cathedrals, Main Square, Castle and easy infrastructure. It is also an excellent jumping off ground for the surrounding area. Easily getting to Auschwitz, the Wieliccka Salt Mine and where I really wanted to go but ran out of time, The Village of Zalipie.
I stayed at Hotel Europa Krakow and across the street (on the weekends) is a market, where I picked up some wonderful French cheese, meat/sausage, fresh baked bread and even some foie gras – I had an inexpensive feast in my room along with some Vodka and juice. I also had a huge breakfast, included with my room. With a surprising assortment of fresh made items. I even stocked up on a few pieces of fruit for later in the day.
I went to Mass on Sunday (free) at the St. Mary Basilica, but OMG there are WAY TOO MANY PEOPLE in the square, when I see a "Transformer" posing for photos in front of the Peter & Paul Cathedral I know it's gone too far. I left and came back around 7pm and it was so much nicer, less tourists, cooler and the light was perfect.
When in the Krakow main square – St. Mary Basilica at 12n rings 12 Bells, as you would expect and on the ¼, ½ & ¾ = single, double & triple chime, as is the norm. But on the hour after one bell chime, a trumpet plays the song Hejnal Mariaki, but cuts at the ½, in honor of the trumpeter who while signaling that the Mongolians were approaching Krakow in 1241, was shot in the throat by an arrow killing him in mid alarm. This is done four times, once out of each of the four windows and is why he seems to stop in the middle of his song.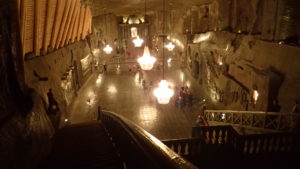 I had the opportunity to tour the Wieliccka Salt Mine, just outside of Krakow.  This was very interesting even if much of it is made up for the tourists. I suspect just going into a working salt mine with nothing to see but tunnels would not attract too many guests. Since they recently stopped actively mining, the location has been put on the UNESCO list. There is a cathedral that is carved entirely out of salt rock (that was amazing & worth the entrance fee), pools, statues and an excellent commentary and dioramas on how the Mine came into being. It is said to be 700 years old. Takes 40 min to get there by #304 bus and costs 84z to enter (don't pay for the photo pass, no one enforces it). Tour companies charge at minimum 150z. Be ready to walk… There are 900 steps, all down thank god and you will walk over 2k. Entrance to the mine is only by guided tour, which from the time you enter to the time you surface is @2 hours. The mine is huge and visitors are only able to experience less than 1% of the actual mine tunnels.
Went to the Schindler Factory Museum (Tram #3 drops not far from 4 Lipowa) do note however this is not a "Factory" tour, this is a Museum, with the permanent exhibit: Exhibition Kraków under Nazi Occupation 1939–1945, in what is left of his administrative. Most of the rest of the factory was destroyed &/or repurposed. The museum is excellent though and certainly worth the time. Travel Tip: Buy your tickets on line the day before. This way you will bypass the stupidly long line outside in the weather. Also note, as has been typical in the Baltic's – there is little to NO exterior informational signage (even in the local language) and unhappy, unhelpful staff. Regardless, it is worth the price of 21z. Gives an informative, interactive and detailed account as to what it was like to live in Poland, Krakow specifically, during Hitler's campaign. They also have the cool 1920's Fotoplastikon device like I visited in Warsaw, rotating stereoscopic 3D photos.
Krakow's Wawel Castle was cool – there is a real Fire Breathing Dragon, just outside his cave along the river and "Real" Dragon bones hanging over the Entrance to the Castle (both Free to see). Also nearby in the River Park is the Dzek Monument, for the loyal dog.
The Rynku Underground Museum is much like the underground museum I Experienced in Stockholm. It is fairly new, built around the underground remains of the oldest parts of the City, which were "discovered" while doing work in the square. Very well done and extremely popular so you have to book ahead and arrive on time. Note it's free on Mondays with pre-book.
For a totally different experience – the women walking around the Main Square with Red Umbrella's are prostitutes and are trying to get you to "party" with them. Most likely their "handlers" will try to extract as much money as possible from you so beware.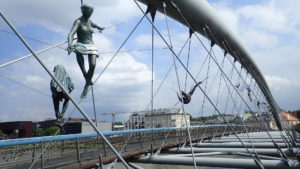 I did not make it to the Kosciuszko Mound (Bus #101), Nowa Huta (Tram #7) or Village of Zalipie as I wanted (Travel tip: the best way to get there is to rent a car and drive yourself). But I did climb up The oldest structure in Kraków, Krakus Mound which is thought to be the resting place of Kraków's mythical founder King Krakus. Great view of the City from there. I also recommend walking across the Father Laetus Bernatek Footbridge  which links the Podgorze & Kazimierz districts over the Vistula River. Opened 2010, cost 38 million zloty and is 145m long. It was designed by architect Andrzej Getter…
Saw a marriage proposal today in the park, so sweet – 24 long stem roses, down on one knee – she said yes.
Went to the movie – saw Pirates of the Caribbean, only 25z. Interesting experience – every seat is reserved, but the aisle is up the middle and you sit split from what I consider the best seats. You enter in the sides and afterwards they direct you out the front and out the venue. They played 12 min of commercials for everything you can imagine, the last three were: Galaxy 8, MacDonald's & Coke. Then they showed only two trailers – Thor & Star Wars (oh Hell Yea). The movie was subtitled in Polish – oh Travelers Tip: movies are shown both in original version with subtitles or dubbed – don't buy the wrong ticket.
And right across from the theater is THE BEST RESTAURANT IN THE WORLD "Jeff's Place". Yep – got my own place right here in Poland, who knew… Love it – so want to put the carpet in my house…
Back in Old Town, near Peter & Paul Cathedral, I had a traditional Polish meal at Black Duck – I ordered their "special" shot (vodka, Tabasco & raspberry syrup – it was terrible), Polish Cider – also not so good & traditional Bigos or Hunters Stew, which I really enjoyed. It is sauerkraut, kielbasa, pork, onion, tomato; seasoning in a bread bowl (could have skipped the bowl). They also served pickles & a killer shredded duck appetizer and to finish the meal a free shot of raspberry vodka (that one actually pretty good). All for 48z or @$13us. On top of that – much earlier in the day I had some of the best Herring I've ever had, at the self proclaimed "Best Herring in the World" Ambasada Sledzia. Two nice size filets, in oil w/onions, capers, bay leaf & something else I couldn't figure out. Some bread & of course a cold shot of Vodka – all for 15z or $4us, with U2 playing on the Marshall Amp in the background it was a Great Experience.
In Krakow, well most everywhere I have been so far, everyone walks around with their ice cream cones and Argasinscy seems to be THE place for Ice Cream in Old Town. There was a 30min line on Sunday. On Monday, however I walked right in. It was good, but nothing I would wait 5 min for, let alone 30 – especially when there are dozens of places selling ice cream. The other ridiculously popular spot is Lody na Starowiślnej, closer to the Jewish Quarter, which had an even longer line…
You must have at least one Obwarzanek sold on every corner for 1.50z – but be picky on which one you want and shop around, they all basically come from a few bakeries which produce something like 200,000 a day. But note they are a baked bread/soft pretzel type item that only lasts for about 3 hours so try to get one that is fresh.
Had a decent meal at Wierzynek one of the oldest restaurants in Poland, opening in 1364. Unfortunately the food was just ok, not amazing as expected. I did try Veal Tongue for the first time and liked it, the Smoked Eel was not good, all bone and a bit slimy. The desert really was the best part of the meal and the fact that I was in such a historic place, sitting in a window booth overlooking the Main Square – very cool.  I would go back just for desert and the view. They also do a Chopin Concert each night. From what I am told it can be hit or miss. They hire local students to play and while most are excellent, not all are.
Another must do, is to search out Mercy Brown. It is a Speakeasy in its truest form. It is not marked – you have to ask the sullen guy sitting in a chair of what might be a cloak room; he leads you out the back, up a stair and into an unmarked door into the coolness of a dark bar with amazing bartenders. Eric took care of be (even letting me try some Cardhu 12yr – my new favorite scotch whisky). I met "always late Mary" and Mark from England. Mark & I bonded and I'm hoping to catch up with him again – great guy.
Finally I visited Auschwitz – from the bus station take Lajkonik Bus Lines to Muzeum Auschwitz, takes about 90 min & costs 14z. Buy your entrance 60z ticket a few days before. This will be for a specific time and specific language. If you want to go it alone, you have to enter before 10a or after 3p. If you want an English speaking guide it only costs an additional 10z. I took the 7:10a bus & the 9:30a entrance. If you go to both camps, as you should, transfer back to Camp 1 to get the bus back. It's a full day Experience and not one that will leave you for a VERY long time. This is Hartzog Must do. Really it is best to go with a guide on an organized tour, it will be much easier and only a few dollars more. My Visions of Auschwitz are Here…
Five for Free:
Mass at St. Mary Basilica
Underground museum on Tuesday w/pre-book
Walk across Father Bernatek Footbridge
Listen for the trumpet played on the hour at Saint Mary's Basilica
Climb to the top of Krakus Mound
Trip Advisor Review:
Mercy Brown
Black Duck
Wieliccka Salt Mine
Schindler Factory Museum
Ambasada Sdledzia
Be sure to Check out my TripAdvisor Reviews (please add a "Helpful Vote") and YouTube Channel which will give even more detailed insight…