Obituary for Rich Hartzog
Richard A. Hartzog (age 70) died November 11, 2017 of Metastatic Bladder Cancer.
Born November 4, 1947 in Chicago and raised in Wheaton, IL. Rich Hartzog moved to Rockford after attending the University of Wisconsin at Platteville. Rich is predeceased by his parents Walter B. Hartzog and Virginia J. Hartzog, his sister Terri Hartzog and his Lady June Shigley. He is survived by his brother Jeff Hartzog the World Traveler, Sister Nancy (Rick) Brunton of Colorado, daughter Jennifer Hartzog of South Beloit, nephew Tyler White of Kansas City, nieces Cody Yeager of Gilbert AZ and Anna (Justin) Sales of Montrose CO including his inherited daughters Karen McCaugheny of Lombard, Jennifer Kross of Peachtree City GA and Kerry Anne Shigley of Loves Park.
Hartzog was a collector and dealer specializing in tokens, medals and other small collectibles including 19th century Illinois Exonumia, Civil War Tokens & Slave Tags. He issued numerous auction catalogs and sold at shows and on-line over the course of 45+ years of business. Under the name World Exonumia Press he published several books of his own and others. Hartzog was president of the Chicago Coin Club 1979 to 1982. He has served on the board of governors for the CSNS, CWTS, TAMS, Illinois Numismatic Association and a member of the Rockford Coin Club among others.
A "Celebration of Life" for Rich will take place at Anderson Japanese Gardens in Rockford, IL on February 17, 2018 at 17:30. Interment will be at the Montrose Cemetery in Chicago.
________________________________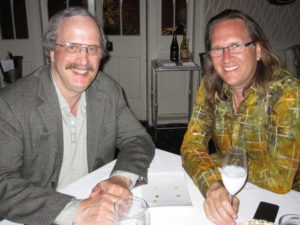 Rich My Brother Speech
My brother was a large man I always remember never quite being able to put my arms all the way around his body when I hugged him. But with a large man you get a large heart which I find interesting, I am third in the Hartzog family of four and I remember writing down many years ago that I believe that I got my morals and sense of family from my Father, my heart from my Mother, my intelligence from brother and my wanderlust from my sister. But I think my heart was more influence my better brother than I realize. He was a very giving Man and would always be there to help you out if you were in need. While at the same time being a miser and trying to squeak the last cent (or actually every buffalo nickel) out of every deal. He always told me that "my money was no good here" and would pick up the tab on everything.
But in the end he had three women he loved: Janis Joplin, his longtime partner June and his daughter Jenny. Unfortunately he lost both his first two loves too early (note – today is also the date June passed away back 2011). I'm just really thankful to God that he found his last love again.
So this is meant to be a celebration of life I'm going to open this up and allow anyone to come to the microphone and share a story, a laugh or a great time. This is meant to be a celebration of a life.
My best memory was one of the last times we had an Experience together – In New Orleans. I was there for a week and we really had the best time – enjoying the City, Food, Festivals and drinks. But I convinced him to have one "Epic" night – we went to Stella! and truly had one of the best meals ever. It was totally out of his comfort zone – the meal cost over $400 for the two of us, with the wine pairing (yes he loved his wine). But we laughed, bonded and really experienced something Epic together.