Today I visited the Piedra Herrada Monarch Butterfly Sanctuary a couple hours outside of Mexico City. The Monarch Butterfly migration happens every year October to March, when millions of butterflies come from Canada and North America to this mountainous region Temascaltepec. It is truly a magical place where the trees are filled with HUGE clusters of butterflies clinging together for protection and warmth, thousands in a single "clump". As the sun rises and the air temperature warms up, the butterflies start to swarm, fluttering around until the sky is clouded with movement of these tiny delicate creatures.
For some reason there are no organized tours from Mexico City, unless you are booking a group tour and then it's very expensive. But you can organize your own day trip to see them and to be honest it is very inexpensive, easy and well worth the effort. What follows is Exactly what you need to do…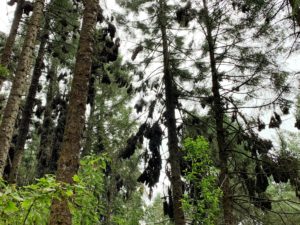 There is only one sanctuary which is 56,000 hectors in size. This is the full protected forest area, but there are eight colonies, four of which are open to the public – Cerro Pelón, Sierra Chincua, El Rosario & Piedra Herrada. The largest, most popular, most crowed and subsequently most beat-up is El Rosario. I would not recommend going to this one on the weekend as it gets Very crowed and spoils the Experience. The closest to Mexico City is Piedra Herrada, the one I recommend to see the Monarch Butterfly migration…
So, what to do if you want a day trip from Mexico City? Well first plan to go in January or February when the butterflies are at their peak and it's warm enough for them to swarm at times. Second check the weather – the warmer the better, but more important if it has rained in the last couple of days be prepared for a muddy Experience. And do not go if rain is scheduled for the day for obvious reasons – you are hiking and exposed to the weather for 2-4 hours.
Ok so you are in Mexico at the peak time, the weather is great – now what, where are the Monarch Butterflies? Take an Uber (easiest, safest & cheapest way to get around Mexico City) from your Airbnb or other accommodations to "Terminal Poniente", look for large brightly lit counter "Zina". Ask for "Uno to Valle de Bravo", the ticket should cost @150 Mexican Pesos (p). They will direct you to which gate to exit the station for the waiting bus – do arrive at least 15min early, as the queue will form quickly. Ask if there is a baño on board – if not, use the one in the terminal – cost is 5p to pee, in preparation for your @2.5+hr ride. The bus is comfortable, clean, has reclining seats, shows movies (dubbed in Spanish) and has a smooth ride. The seats are not reserved, and I suggest getting a window seat if possible so you can enjoy the countryside view. As you board ask the driver to drop you off at the Sanctuary entrance ("por favor Piedra Herrada") DO NOT ride all the way to Valle de Bravo, this will take another 35-45 minutes to reach. Then you have to negotiate a taxi back to the sanctuary, where they will wait for you and drive you back to town another 35-45 min (depending on your negotiating skills this will cost between 500p & 700p R/T). So, you save money and more importantly time. There are generally drivers waiting outside the compound to take you one-way to the bus station in town. Generally – more on that later…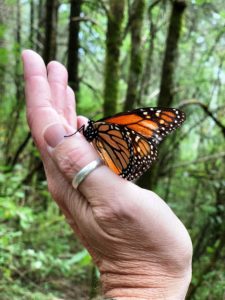 As you walk up the dirt road thru the car park, you come to the ticket booth. Cost is 70p. Note, as is the case in all purchased in Mexico, having smaller bills as close to the cost is best. Handing them a 500p bill and expecting change is rude and to be honest much of the time, impossible for the merchant to accommodate. From the booth mosey past the several merchants selling souvenirs, snacks and even fresh, made to order meals. As you go past the baño (5p), someone will approach and ask for your ticket. They only take small groups into the sanctuary – minimum of 5, maximum of 20 at a time so you may have to wait a few minutes for more guests to show up, or just join a waiting group. They will also explain (in Spanish) that the cost for a pony ride up is 200p. I highly recommend spending the extra money. While the first part of the path is well maintained, even paved most of the way – it's ALL "Up" and you are at 5000' of elevation. Plus, it's faster and helps the local residents. After some more explanation on the sanctuary and the "rules", you will be directed to your horse and off you go. The rules are simple: you can ONLY enter the sanctuary with a guide, keep silent, leave no trash, food & alcohol are not permitted and Enjoy. Do take up a liter of water & be sure to hydrate.
Your horse is tethered by its owner and knows the way up the mountain. It's a relaxing 25 min up (walking took some of my group 45 min & two quit and never made it up). The horse only goes 4/5th of the way up, the last part you need to hike, so wear comfortable/sturdy shoes and be prepared for a moderate climb (one more from our group couldn't make it up this last part after she got off the horse and also did not make it up to see the butterflies).
But now… Here you are, all of a sudden you come to an area along the trail that opens up a bit and you will see some stray Monarch Butterflies here and there but THEN looking up, you notice these large black clusters on the trees all around you.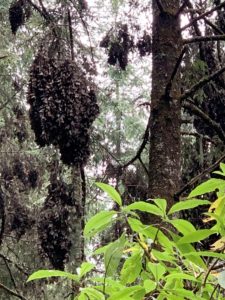 Are those part of the tree – NO, those are butterflies – thousands of them all grouped together. Sit down on the trail or on a log and just look up. Soon one will drop off the bottom of the cluster and then another and another and then dozens, hundreds at a time in sequence till the whole cluster lets go and takes to the air, filling the sky. Some will come lower and may even land on you – if they do, don't touch just let them do whatever it is they do and absorb the sanctity of the moment. It was really a highlight of my Experiences – Mother Nature at Her Best and Most Magical. You will only have about 25-30 minutes up there (hence arriving first via pony, gives you more time while the others in your group "walk" up). Your guide will explain the migration process and the life cycle of the butterflies (all in Spanish) but if you don't understand, like me, it's really the Experience you are here for. One word of advice – As you look up in amazement be sure to keep your mouth closed as the millions of butterflies do "poop" so at some point you will definitely get some "droppings", Good Luck (yea right…).
Your guide will signal that it is time to descend.   This can be tricky, going down the dirt/rock path is more challenging than going up, so be careful. Back to your waiting horse, who takes you back to the entrance area. You then pay your horse guide directly and do have him a tip 50p is fine for a total of 300p. Get something to eat and then ask about a taxi to town. This will be your most challenging part. But if you are smart and a little lucky – you will have met others in your group that are needing to do the same thing or already have a booked taxi, that you can share. I paid 50p to get back to town in a taxi with three other people. It's bumpy and the road is not a well maintained as the majority of the road leading to the Sanctuary is. If you have time, explore Valle de Bravo. It's a quaint lakeside town with numerous shops, food and accommodations. The taxi will drop you off at the VERY small bus terminal. The last bus to Mexico City is 17:30 so don't be late. This bus back is even nicer than the one you came in on, with leg rests, reserved seats and a baño onboard. 2-3 hours back and you are in Mexico City. The perfect day trip, one you will take about for years and a highlight of your trip to Mexico. Enjoy…
Be Sure to check out my video of the Experience Here: https://youtu.be/sDxwkPaSiXU
Also All my Photos are Here