Memories of Zadar Croatia – I am enjoying the bus ride up to Zadar from Split, along the sea & inlets, plus miles of olive trees. While there is power at each seat the wifi didn't work but I met a couple from Wisconsin so we had a nice chat.  Bus fare was only 86k plus 1k to stash the bag underneath. Note – When arriving at the Zadar main Bus Station there are lots of young taxi drivers pitching need, just brush past and do your own thing.
Happy Fascism Day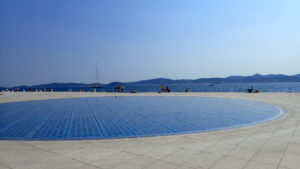 Spent the whole day biking around the City – it was perfect. Nice breeze, sunny day, faster than walking and real easy on the down slope. Zadar is such a lovely town, very easy to navigate.
Went to the Kolovare beach, bit rocky but the public likes it. There is a jumping tower there if brave enough. Had a drink at Zara Beach – yep it's the perfect spot.
It's nice to sit in the bench side park under the canopy of pine trees, with a nice cool breeze coming off the crystal clear Sea. The cicadas are singing, lizards are trying to find each other- children are laughing, old men are playing cards or swimming laps & the Croatian ladies are working on their tans. All & All it's a Beautiful Day.
Happy Statehood Celebration Day!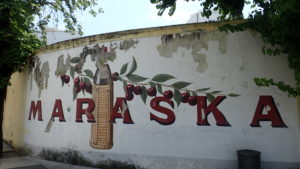 For over 5 centuries Maraska has made Maraschino Liquor (yes – the real
Maraschino Cherries). This special cherry is authentic only to Zadar Croatia. I totally
loved the liquor; I really want to be able to find it in the States when I return…
Be sure to go to the morning Fish Market, definitely the place to buy your dinner.
Travel Tips:
The City bus to the airport 25k @15min.
Don't get caught – much if the time on a 4 lane street the crosswalk signals don't match up. Always stop in median & confirm green for the full crossing.
Five ways to save Money:
Buy your liquor by the bottle in the grocery
Bring your own carry bag to grocery – they charge for bags
Buy your meal at the Fish Market
Ride a Bike around town
Take the Bus to other Cities for Day Visits
Five for Free:
Sunset at Sea organs
Greeting to the Sun after Dark
Roman Forum
Kolovare Beach
Concerts at 5 Wells Park
Must Try Traditional Foods:
Maraschino Liquor – the Cherry is grown here
Buy Braided Garlic Strands
Crni Risotto – Black Risotto w/Squid Ink