Great Airbnb, super close to the Ferry Port, up and over Linnahall (built in 1980 for the Moscow Summer Olympics now a Ghost Town) and to the right, five minutes, also just 10 min more to the Old City. Most of the outer walls are still intact making for a wonderful "feel" to the area. The ancient cobblestones make walking difficult at times but still really awesome. Of course there are numerous churches to check out – I really liked Toomkirik with its tower you can climb and look over the City. Beware of the angry guard yelling at all the Oriental tourists taking photos without paying (in a church – good times). Be sure to go up past the Maiden's Tower to the Viewing Platform – really high up overview of the coastline. St. Catherine's Passage is a neat quick look and do a spin in Town Hall Square.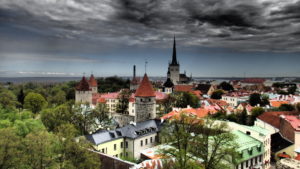 If you show up around 21:00 you will have the place to yourself and it's still light out. While there, eat at one of the "authentic" restaurants that really put on the performance – transporting you back to the 1600's. My favorite was III Draakon – be sure to tip the Landlady after you order Elk Soup (ladled out of a large barrel into your own bowl, which you will need to slurp), sausage or a huge bone of meat and wine from a sheepskin (order at the counter & clean your own table) – oh and free pickles. Insiders tip – do a shot of "the Fountain of Youth" with the Landlady – your welcome. Fun diversion is the Marzipan Museum next to the oldest
My second favorite meal was at Restrant Troika – I did the Shot of Russian Standard Vodka in an Ice Glass and a Heaping spoon of caviar. Plus tried Smoked Beaver, actually quite good and a large portion of Village Dumplings = Excellent.
If you really want to get your drink on – wander over to Labor Bar for a 10 shot rack of Cocaine, only 8E.
As soon as you step out of Old town you are surrounded by the new w/Gucci, Prada, & Armani all having shops here (stay in Old Town)…
Five for Free:
View from Kohtuotsa and Patkuli view platforms
Climb on the roof of Linnahall
St. Catherine's Passage
Marzipan Museum
Public Transportation (for citizens but they don't check)
Five Ways to Save Money:
Happy Hour Sun/Thurs 50% off till 12m
Take the Ferry to Helsinki only $28us
Get a free drink card from street performers
Visit Patarei Prison only $2us to get in
Again take the Free walking tour to set yourself up for the rest of your visit
TripAdvisor Reviews:
Be sure to Check out my TripAdvisor Reviews (please add a "Helpful Vote") and YouTube Channel which will give even more detailed insight…