I took very fast train, 417km from Oslo to Stockholm. Left in the rain (got soaking wet, damn it) and ended in beautiful sunny weather. Arrived at the train station and it's a bit confusing because of all the construction, but found the subway, bought a 72 hour pass and a local/free map. Found a bank and got some money. Then made my way to the Airbnb houseboat near Nacka Strand, where I am staying – totally awesome.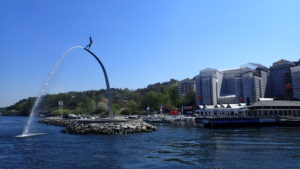 It was a beautiful night in Stockholm, so I strolled along the canal down to Restaurant J, where I sat next to the water, watching the cruise ships and sailboats go by, admiring the huge statue/fountain. I thoroughly enjoyed Fine de Claire Oysters, Langoustine from Smogen, Whitefish Caviar and Wine – it was a good night. This evening was made even made better with the fact that the sun takes FOREVER to go down, so I was there two hours watching a perpetual sunset.
Next day I slept in and then took the ferry over to Old Town and explored all day. The bus, ferry & trams are very easy to navigate and get you everywhere efficiently. Of course you must visit the Drottningholm Palace (a UNESCO's World Heritage site). Note: the Royal Armory & Cathedral are free. The Stockholm Cathedral (@1279) w/4 Bells (largest 4.5 tones) which ring on the ¼ hour – is beautiful (but not free). The Tyska Krykan (Old German Church) is really beautiful too. I could spend many hours wandering around Old Town – it really transports you back to the 1600's in the truest sense. I was a little disappointed that the Humlegarden King's Library is not showing the Codex Gigas right now – the Devils Bible it is supposed to be awesome. Yes I skipped Grona Land & the ABBA museum.
The next day I found a wonderful traditional Stockholm market and bought Smoked Mackerel, German Bread & a nice chunk of the famous Swedish Vasterbotten Cheese (white cheese, firm, not too strong w/granules) & Ginger Beer for only 91k & ate in the Karlaplan Park. I do suggest spending time walking around Djurgarden Park and discover some wonderful little hideaways (the orchard would be so romantic for a picnic). There is a Zoo and just a nice walk among the trees and along the canal.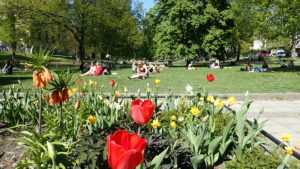 On my last day in Stockholm, I found a very very cool Blues Club in Old Town – Stampen. A Hartzog Must Do. Also note Stockholm like most larger European City's have a "Café Culture", you have to have at least one glass of wine or coffee while sitting along the boulevard watching the commoners stroll by. You also must have at least one ice cream cone – I think it is a mandatory creed by the King or something.
Travel Tips:
There is less in English being used, then in Oslo so you have to pay attention and match your letters/words. Ferry line 80 & 82 = same as Canal tour w/o commentary (& WC on board).
Tram & Bus service, which stop at all the Hop On/Off locations, plus the subway are all inclusive on your 72hr pass
If the there is a seat available in a café enjoy no need to wait to be escorted by the hostess
In Scandinavia blankets or fur cushions are available to keep your tush warm.
Ask what the specialty of the house is &/or what they recommend – you find the most interesting things this way
Tipping is at your discretion but it is expected in restaurants
Joe the Juice has taken over and can be found everywhere
To guarantee a seat book your bus/train tickets online, although most folks just buy at the station
Hartzog Hack:
 Take a screen shot of your boarding pass/information & any directions or trip detail's you need to have incase wifi is not available.
Five ways to save Money:
Buy food at the market and eat in the park
Use a bus pass for access to bus, tram, subway and ferry service
Typically your exchange rate is better at a bank, but ATM's are everywhere
Like I am doing, stay at an Airbnb – so much more charming and less expensive
Don't buy water, carry a refillable bottle and ask to fill in any restaurant
Five for Free:
 Medieval Museum – very nice, built around the original City Wall, which was discovered during evacuations. Also the Moderna Museet (Museum)
Lockers in the museums are generally free, just take and return the key. Also you can usually find a toilet there w/o fee and drinking water
Royal Palace – Armory (loved the Royal Coaches – so Beautiful) & Royal Cathedral
Free Tours of Old Town, Slussen & the City – just tip
The Beggar Fox Statue (if you can find him) & Margaret Krook Statue in front of the Royal Swedish Opera House
Be sure to Check out my TripAdvisor Reviews (please add a "Helpful Vote") and YouTube Channel which will give even more detailed insight…