Memories of San Sebastián, Madrid, Arróniz & Pamplona Spain
The Bus stop in Biarritz was just on the side of the road with no marker – but 20 min late it came. It was a beautiful ride through the French/Spanish countryside. There are lots of farmland and windmills.
I had a very short 80 min layover in San Sebastián, Spain. I did have the opportunity to get away from the bus station and wander down to the beach. There is a wide, shallow, slow moving river which cuts through the town and out to the sea. Follow this to the Zurriola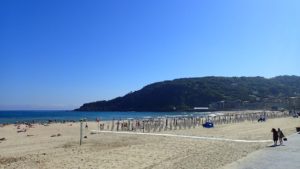 Hondartza Public beach. Beautiful tan sand, which is very wide and you can walk out a long ways into the water. Note, as typical it is a topless beach. Then back on the bus to Madrid.
Easy metro right there at bus station, which took me right to the Flat, very easy to navigate and a really nice space, with a comfortable bed. The only negative, was the place had no AC – it was the same in France – terrible wifi, too. But I managed – even though I sweated the first couple of nights.
I ran around the town, found a great place for tapas and beer Sanlúcar. This was awesome; I enjoyed Ortiguillas (Sea Anemone) for the first time and olives, OMG the olives were amazing – wow. If I could find these in the States I would love olives. Interesting things happen in the strangest ways – I planned my metro route to the restaurant but when I got to my transfer it was closed for construction, so I had to reroute. While trying to navigate a different way via the map, I discovered the Palace and a sign saying that the once a month changing of the guards is happening tomorrow – sweet. I would have never known, if I had gone my planned route, defiantly coming back for that. Also walking back found a cool compound with music, movies, drinking and smoking Campo de la Cebada – loved the vibe. Ended up meeting some new friends and hung out there for about three hours.
Notes and Highlights:
Saw the changing of the guard at Palacio Real de Madrid (the Royal Palace) – YouTube
Ate at the World's Oldest Restaurant – Sobrino de Botin for sucking pig – TripAdvisor Review
Cinema Dore – Art House Films in a Beautiful Classic Theater for only 2.50€
El Rastro Market – Sundays
Plaza de Santa Ana – Beautiful Square, so Vibrant
The La Latina area is a Must for Tapas
The Gran Via to Chueca is where the Nightlife is
El Tigre – "Free" Tapas & Cider (really really good cider)
Plaza de Espana & Temple of Debod – Must See
El Retiro Park – Row Boat, Buskers, Cool Fountains & Glass House
100 Montaditos – inexpensive tapas chain
Onto Arróniz – easy bus right but just dropped off on the side of the road. Found a place for beer, bathroom and most important a Taxi number – called and arrange p/u – 16k and here we are at our cottage (bit expensive but no choice). Arróniz is a romantic, sleepy, farming town with two churches, three bars & three restaurants – all of which are for the most part closed due to the San Fermin Festival – well except for drinks and barcatos (snacks) – no food. All good – we found a market, but it was closed for siesta, opened later, after a bit of rain. We bought meat, cheese, bread, eggs, salsa, wine and cider. Now we are set. I thoroughly enjoyed our time doing nothing but relaxing in our quant town. Found out there is a winery and olive factory with museum but both closed till season.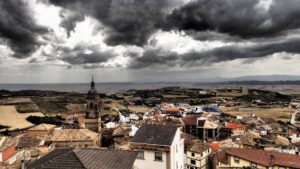 But… small issue – such a small town – no real bus service and no way to get to Pamplona as I had anticipated (this was one of the first Airbnb's I booked so didn't' do the research I do now. I had planned on Arróniz to be a "base" with the ability to take day trips to Pamplona for the Festival, but no such opportunity. All good, redirect – I figured out a ride share to Pamplona, leave a night early and just sleep in the park. Ride cancelled 6 hours prior to p/u, damn. But arranged another – all good, he arrived during a break in the rain and off to the Bulls…
Finally Pamplona Spain – dropped off right in the middle of town at the Puerta del Socorro Park, right by the Bus Station (ended up sleeping in the same park, hours later after the fireworks). Note this is the BEST place to see the nightly fireworks during the festival. Dropped off the bags at "Consigna" in the old school building in the Plaza de San Francisco, the facility is very easy to find, inexpensive and well organized. Got some food, bought a sash, neck scarf and I'm set for the run in the morning. Walked the route, danced in the street, drank HUGE Sangrias. Danced some more and dodged the Toro del Fuego, so fun.
It did rain a bit but nothing severe. Slept as best we could: in a park, by a tree, on a bench and just on the ground. Ate some good tapas, more beer, sangria (a must) and really enjoyed one of the best firework displays I've ever seen – part of it can be seen here.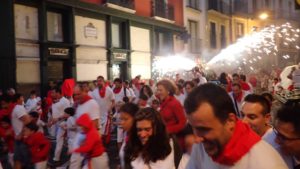 Woke up early or really just stayed up and went down to the Bull Run area. It was already packed and I couldn't get into the queue where I wanted, so had to backtrack and ended up getting in closer to the starting line. Jesse made her way over to the 1922 Plaza de Toros de Pamplona (the Bull Ring), where the run ends. Has a capacity of 19,720 spectators. She bought a 9€ ticket and found a place to watch. A Huge screen broadcasted the run – can be seen here: https://photos.app.goo.gl/OeZUyk0AzXDxdAl33. My run story is here…
Afterwards we caught our Rideshare to Barcelona, up and over the mountains – it was an amazing ride, which ended a perfect Experience…
Be sure to check out my Visions of "San Sebastián", "Visions of Madrid", "Visions of Arróniz" & "Visions of Pamplona" for all my photos and for more specificity with captions and write ups on all there is to do in the individual towns… Plus my TripAdvisor reviews will give detailed insight…
TripAdvisor Reviews:
Tapas & Olives and Sanlúcar
El Tigre
Sobrino de Botin