I had the same impression of the City of Reykjavik as IcelandAir = clean & efficient. The airport security line was the best, most efficient I have ever experienced. Yes, expensive but bargains can be found, if you know how to look, such as the famous lamb hot dog and be sure to check out the happy hour prices for beer – you can certainly blow the budget with $28us drinks.
Very walkable town, safe, clean and well organized – no need to use taxi or public transportation. While the street names look complicated the translation is usually quite little literal – like Pond Street is next to the Pond, Bank Street is where the Bank was, Church Street where the church is etc. Note – you will most likely not see any police. They are not needed – mostly just deal with "hooligans" and they don't even carry guns. It's the safest country in the world, so they say.
Sunsets in Reykjavik take forever at 22:30 & it's still quite light out. They celebrate the sunrise more than sunset, go to Solfarid the Sun Voyager (Free). In the winter they only get @4 hours of light.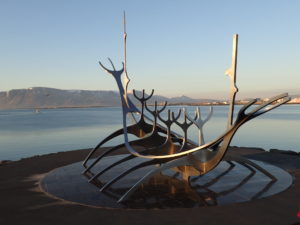 Very proud people, who like to talk about their country and share with others. 323,000 people in the country, 80,000 horse and 800,000+ sheep. And the people only use their first name – their "last name" is "The Daughter/Son of…"
Credit cards are accepted everywhere and I used cash very very seldom.
Live music in many clubs/pubs most nights and I even found a comedy club and a Great late night Jazz Club.   My favorites include: Bravo, Kek (favorite), Dylan, Lebowski, Bryggian Brugghus Brewery & Hurra. Note: TripAdvisor.com is King here – use it for meal & entertainment planning.
Some of the traditional foods include: seafood (langoustine, shark, cod) and lamb, of course, but also puffin, reindeer, horse, beer, ice cream & Skyr (a tart silky smooth "cheese" but the look & mouth feel is like yogurt. Iceland has been producing it for 1000 years and they call it cheese but in the States is labeled yogurt – you decide, I just say it's good. I tried the Strawberry, Plain & "Berry" ones. Also is really Amazing as Ice Cream). Also do try the Hot Springs Bread – dense and sweet.
Shopping in Reykjavik is primarily for Wool, Wood Carvings and Trolls. The best take away is the scenery. Be sure to rent a car or go on a tour to see the countryside – it's truly magical. The Waterfall, Hot Springs, Crater and other natural wonders must be seen. Directions are given in time – either walking or driving, not distance. And finally it is named Iceland for a reason – bring a good jacket, gloves and cap.
Save money:
Free water everywhere – don't buy bottled water. Note the water comes via two pipes – Hot is from the Thermal Springs and Cold from the rivers – All Natural and Clean.
Go on Free 2.5hr walking tour, first day for perfect overview of town and Iceland history.
There is a free shuttle to the Mall, take it to that side of town (Kringlan) for free transport.
Shop at the weekend Flea Market – slice of "real" life and a huge savings on products.
Also shop at the Bonus Grocery, I bought smoked lamb, cheese, artisan bread and Skyr all for 60% less at the restaurants and "in town". Plus I got to try more fun things (the smoked lamb was amazing with toast)
Note the "Iceland Chocolate" sold in the Gift shops for $6 is exactly the same in the convenience stores for $3 with the "normal" packaging not the tourist packing…
Free concerts at the Reykjavik Harpa Concert Hall, check the schedule. And J.S. Bach on Tuesday nights at the Church also free.
The "local" geothermal pools are much less expensive then the famous "Blue Lagoon" and not enhanced as that one is (however I must admit it is beautiful – at a price)
Happy Hour's are everywhere and take advantage for savings on drinks & food. Order the Fish of the Day – usually the freshest thing on the menu and also the least expensive.
Be sure to comparison shop for everything – souvenirs, tours, food & rooms. Big differences place to place.
Just walk – Reykjavik is a Beautiful town and looking does not cost anything. Be sure to go down to the Harbor (there is a Great Ice Cream Shop there all the Local's go to)
Don't tip (except for the "free" tour if you want). Service personal are paid a full wage and it is not expected or required.
Hartzog Hack: there is free Wi-Fi on all of the Reykjavik tour buses so all you have to do is get close at one of the many stops around town and you can logon.
**TripAdvisor Reviews (please add a "Helpful Vote")**
Bernhofts Bakari – Oldest Bakery in Reykjavik
Hallgrimskirkja the Tall Church
Bejarins Beztu Pylsur – The Hotdog Stand
Kaffi Vinyl – Vegan Restaurant
Sæmundur í Sparifötunum – Kek Hostel Restaurant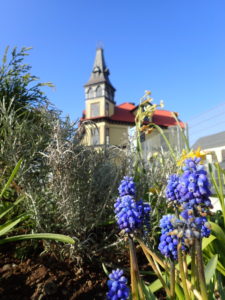 Additional City highlights, from the website, not mentioned above or reviewed:
Be sure to Check out my TripAdvisor Reviews (please add a "Helpful Vote") and YouTube Channel which will give even more detailed insight…