The memories of Paris France – I took RyanAir from Zadar Croatia to Paris France for only 38€ with just my carry-on bag.  Travel tip – start the line up early to board the plane, they do not call out rows or anything so the queue backs up quick and if the plane fills, you may have to put your bag on the cart to have it checked. Always put your overhead bag one row forward & across from of where you are seated. That way you can keep an eye on it throughout the flight. While I love RyanAir for its pricing – this flight was very very bumpy and the seats are ridiculously uncomfortable, and don't recline. Also note – there is nothing free, not even a glass of water, so bring all you need with you. But still ½ way across Europe for 38€ – yes that works for me. My least expensive flight has been 17€ – boom that's what I'm talking about.
From the airport to the City is a distance, so take the Bus. Cost is 17€ bus, seatbelts Merci, to Paris Porte Maillot (center) @80min, it's a nice rice surrounded by fields of crops.
For local transportation, the Navigo weekly pass is for me as it covers all 5 zones including Disney, Palace d'Versailles and the airport for 22€ from Monday to Sunday (note need photo for id). But the deal is great. When using the Metro, which is really easy to navigate, stand just inside the doorway facing forward – this way you will get a nice cool breeze in your face from the open window and can easily watch the map for your station. Note some of the car doors need to be manually opened with a switch (or a push of the green button), don't assume they will open on their own.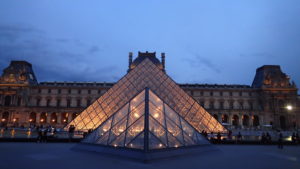 It rained just a little bit during two of my days in Paris, but really not an issue, never really poured. When I had asked about the weather the answer was "ah Paris Weather" and that was it…
I met up with a friend of mine from Florida – Rebecca, so awesome & totally by chance. We just noticed each other's Paris posts on FB and connected. I totally love seeing my dear friends while traveling. Totally grounds me. We only had a VERY short visit but still it was cool. She is doing an amazing job of journaling her Experiences, so worth the read. Love ya Becca… We met up at Les Etages – very cool laid back vibe from this small bar. Cushioned chair and old school benches plus they played the Cure for the 2 hours I was there. Across the street is another cool bar with an original 1930's horseshoes shaped bar and Hogarden on tap – but be sure to check out the ultra cool bathroom – straight out of 20,000 leagues under the sea with stainless steel walls and exposed bolts.
Travel Tip: At night the Paris Eiffel Tower, on the hour "Sparkles". Be sure to catch that, it's wonderful. Best view point is from Parcdu Champ de Mons. If you want to go under the tower you need to go past security bag search & metal detector. To go "up" requires a ticket and another security check. Note that line is LONG, Very Very Long. The Parc du champ de Mars is a nice place to have a picnic. Also Jardin des Tulleries, facing the Louvre is a nice place to sit and watch the children sail wooden boats in the pond.  Parc Monceau Park is a non-tourist place just north east of the Arc de Triomphe down the Av. Hoche, another great place for a picnic.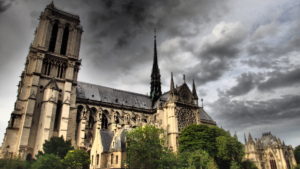 I had a great, really great and surprisingly inexpensive lunch in a Church courtyard on the Left Bank Paris after going to Charcuterie St. Germain Traiteur (although Hugo Desnoyer is the Best & I went on my last day – OMG Good) for some Saucisson Sec & Jambon de Paris. Then to Boulanger Patissier for a beautiful French Baguette & a Croissant and for dessert a nice piece of Dried Meringue. Plus a nice bottle of Pont du Diable Malbec wine from Vin which is right next door. And the absolute best part was the Comte' French Cheese and Mont d'Or Cheese from one of France's premier cheese shops Laurent Dubois Fromagerie à Paris (you MUST MUST GO HERE). Sorry for the profanity but Fucking Amazing!!
For a another real treat, find Jacques Genin and buy a bag of Carmel's – these are the best ever period & the Chocolate is amazing too, expensive but amazing. Finally check out Laduree, where the Macaron was invented – Lime Basil & Salted Carmel my favorite.
Just some notes:
Lot of fully armed police in pairs all over the city
Catacombs of Paris – buy ticket in advance or arrive 1 before opening and still wait ½ hour, takes about 45 to go thru
Le Marais Is a great part of town, run down, dirty, gay and full of character
Musee du Louvre (more stupid long lines) & the Ieoh Ming Pei "La Pyramide" is a marvel!  The courtyard most romantic at dusk
Pont Alexandre III is the most elegant bridge in Paris with large bronzes & a must see
The Belle Epoque architecture Galeries Lafayette Haussmann is a mammoth department store that has a magnificent glass domed rotunda in the center a wonderful place to window shop – it is the most elegant store in Europe
Nortre Dame du Paris began building in 1163. Find the Center of Paris Marker in the Courtyard
Père Lachaise Cemetery is the largest cemetery in the city of Paris with over 7000 graves including Jim Morrison, Molière, Chopin, Victor Noir & Oscar Wild
Odéon Théâtre de l'Europe built in the 1700's – truly amazing
La Crêpe Dentelle – best Crepes period
Harry's NY Bar is a Classic
Picasso Museum – although the one in Barcelona is even more amazing
Monet Museum – Must Do, Stunning
For something very off beat check out the Natural History Museum, with the statue of a Lion eating person also the Dodo Manège carousel is cool
Belleville neighborhood for street art and crazy fun
The Pantheon worth a search out for a photo or three
The Stylishly shabby Stylishly shabbyLe Petit Fer A Cheval is a must for at least a drink +++
Crazy Horse for sexy fun
Marché Bastille (Market) is open on Thursday & Sunday
Musee de Cluny – must do museum, highlight is the "Lady w/Unicorn"
Chrome T-Rex at Bateaux Mouches – interesting and out of place on the river
Hôtel National des Invalides & Napoleon Bonaparte tomb (no really)
Moulin Rouge more classic sexy fun (but expensive 80€+)
Falafel @L'As DuFallafel – best in the City
Champs Elyseses – nice walk for window shopping
Arch de Triumphe & Grand Arch de Defence – both worth the hike, you can go to the top of the Arch for a fee
Be sure to check out my "Visions of Paris" photos for more specificity with captions and write ups on all there is to do in Paris… Plus my TripAdvisor reviews will give detailed insight…
TripAdvisor Reviews: