Very quick and easy flight from Iceland. I was picked up at the airport by my cousin Erik Madsen whom I had never met from my mother's side of the family. He drove me to his house, just outside of the City, where we talked and had lunch (open faced sandwiches = shrimp, meat or egg, which are Very very very common in Scandinavia, as I would learn). He then took me to my Airbnb, which we had a little trouble finding but turned out to be very nice, modern, clean, close to the subway line & only 13 min. from the city.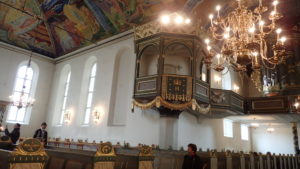 The next day we met up again and he showed me around, two interesting things of note – his Father actually carved a plaque that is now at the entrance to City Hall and also did the wood restoration work on the Kings Box at the Cathedral – soo kool. Then I was on my own, found Herr Neilson Pub and had a beer and chatted with the bartender. She gave me some pointers as to where to eat, drink & socialize, which I took advantage of.
Friday I met up with even more relatives outside of town – had to take a train there. Marius Hellerud & several other family (more open faced sandwiches w/Salmon – I'm getting to really enjoy these) showed me around their area and the cemetery. It was an excellent Experience. I went to Opera that night. The next day I was busy going all over – to the Viking Museum, Vigelandsparken, Schous Brewery, Nobel Peace Center and a Methodist Church (just to name a few).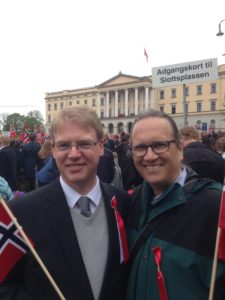 During the week I also visited the Munch Museum (no "the Scream" is Not there) and really the best part was one more time meeting up with Marius & Morton to Celebrate 17th of May. It was just the three of us, the King & Queen & 100,000 of our best friends – all dressed up in their finest Bunad (Awesomeness).
Travel Tips:
There are two different trains to the airport, the "high speed" train that takes only 20 min and costs 280k, and the "regular" train that take 50 min and costs 120k (I got on the wrong train but the lovely attendant let me go with just a smile and a "warning").
Ask/Observe which way the train is going and sit facing forward.
First thing get a map for planning the hop on/off bus folks always have them for free
Parliament is an interesting building and if you can talk your way in and after going through security screening you can actually go and sit in the upper gallery and watch the proceedings.
During the summer they offer tours to the palace if the flag is flying that means the King is there and as expected there is a great view down the promenade
Nobel peace Center has an interesting gift shop and if you want to spend the money can walk around and learn about the process and all the people they have honored.
Subway system is easy to use and as mentioned a day pass is the cheapest way to travel. This pass also includes all trams and buses. Extremely efficient trams and bus system easy on easy off countdowns for arrivals to the minute.
Most pedestrian crosswalks on the streets are raised making cars slow down to go over the hump and are required to stop if you are not at a crosswalk with a stop light (but use caution, just in case) 
Five ways to save Money:
7 day bus pass cheaper than the 4 hours tourist on/off bus & it goes to all of the same stops.
Street food & ethnic (Asian, Moroccan, Thai) cheaper, pizza also. And they do love their Ice Cream
Fish or special of the day is usually the least expensive thing on the menu and the best
Take away is cheaper than sitting in.
The Opera House has standing room only ticket for most performances & are only 100k. Be sure to climb on the roof for a great view of the City 
Five for Free:
Fortress tour is free except you pay if you want a guide. The military Museum is interesting, lots of guns and uniforms.
Vigeland Sculpture Park
City Hall a beautiful building inside with huge murals on most walls make sure to check out the "gifts from other lands" hallway on the second floor.
Check the local paper – lot's of free music festivals. There are some performances at the Opera House for free (also be sure to climb on the roof for a great view)
Top floor of the Radisson for a great view of the City
TripAdvisor Reviews:
Be sure to Check out my TripAdvisor Reviews (please add a "Helpful Vote") and YouTube Channel which will give even more detailed insight…