Rothenburg ob der Tauber Romantic Road is a worldwide symbol of German romance, truly a magnificent medieval town. This should be the highlight of anyone's trip to Germany. If you are there overnight Rothenburg od der Tauber is particularly charming. Here are my Memories of Rothenburg ob der Tauber Germany.
It is just two easy train transfers from Nuremberg and there you are at the Rothenburg ob der Tauber main station. Travel Tip: There are two Rothenburg's, be sure you are going to Rothenburg ob der Tauber. Then just a short walk up the street (just past a sweet little cemetery on the left) you get to the main tower gate. To walk the wall is free but 2€ to climb the tower, it is worth the coin for a wonderful overview of the town. I do suggest the wall walk – go to the south 1st – depending on the time of year, the light will be better.  This will take you all the way out to the point, where there is a nice shady breezy park with an amazing view of the town & surrounding countryside.
Buy your beer, snacks & model train accessories (no really) at the grocery at Rödergasse 6, exact same stuff as in the tourist shops for considerably less.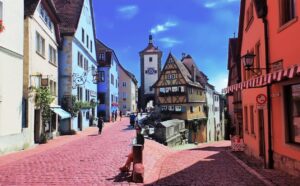 Do try a Schneeballen (ball shaped pastry) pastry but only because you have to- they are not that great, usually dry. Hint get one with white chocolate- makes it tolerable. The local beer, is decent, bit fruity but i enjoyed. Note you paid at .10 deposit on the bottle w/o knowing- return/recycle it for payment return.
There are several museums including a torture museum (all the info is in English so you know who it is geared for. I enjoyed the Christmas house- definitely worth a walk thru. And while I am completely tired of spectacular churches – the St. Jakobs Lutheran Church is worth the 2.50€ entrance fee, plus you get a free postcard- be sure to go behind the alter & especially up the stairs behind the pipe organ (the most incredible 1505 Masterpiece wood sculpture by Tilman Riemenschneider of Wurzburg).
The town really is incredible- as authentic as you will find. As usual, I enjoy wandering- finding the most beautiful out of the way spots. Just stay within the walls & you can never be lost. I just spent an hour just gazing out over the hillside- cool breeze & someone is playing a lute in the tower, echoing nicely in the air – it's a great lifestyle.
Be sure to check out my "Visions of Rothenburg ob der Tauber" photos for more specificity with captions and write ups on all there is to do in Rothenburg ob der Tauber … Plus my TripAdvisor reviews will give detailed insight…