By design and by chance, I ended up in Nuremberg Germany three times on this leg of my Experience – here are my Memories of Nuremberg Germany. It is a spralling City, but between the tram and subway system it seem smaller and they will take you most everywhere you want to go with ease.
The City is filled with wonderful waterfountains for the finding, public art and a grand sqare with it's cathedral, shopping and restaurants. It's also where you will find the grandest fountain Schöner Brunnen – Beautiful Fountain (Xmas Square)
While there you must have the famous Nurnberger Bratwurst but be sure to wash it down with Rotbier (red beer). If you really want authenticity, and you should, then go to The Historic Bratwurst-Küche Zum Gulden Stern since1419. After this finish your lunch with a masterpiece Lebkuchen (gingerbread cookie) or three – I prefer Lebkuchen Schmidt or Eliaenlebkuchen. It goes perfectly with a shot of Bavarian Gebirgsenzian Schnapps.
By design I visited during the 191st Nuremburg Folk Fest covers the Volksfestplatz the Smell of Sauerkraut permeated the Air and the live music forced everyone to sing along and toast "sig a sakai sig a saki prost prost prots" and drink till the wee hours of the morning. There were plenty of carnival rides too – great local fun.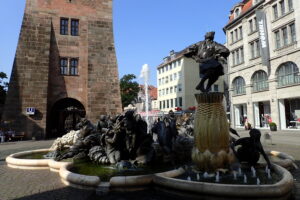 On a very sobering note the fairgrounds are situated right next to the Dokumentationszentrum Reichsparteitagsgelände – Documentation Center Nazi Party Rally Grounds and the Unfinished remains of Congress Hall built by the Nazi Party. Started in 1934 it was never finished – now a Harsh Reminder of the Nazi takeover. In front of the Congress Hall starts The Große Straße or Big Street. With a planned length of 2 km it reached all the way towards the Märzfeld (Marching field). The road is 40 meters wide on the small end and 60 meters on the broad side, and is built from 60,000 black and gray granite slabs. The slabs were quarried by forced labor from various concentrations camps. Just 1.5 km of the road was finished. I think this is a MUST visit so that we do not forget the atroaties and never allow them to happen again.
Along the same line is Palace of Justice where the 1945/46 Nuremberg Trials were Held. Tours are available.
There are so many wonderful views, especially along the River Pegnitz, you cannot stop taking photos. Be sure to visit the castle for a beautiful vista of Nuremburg.
Finally when you need some time to unwind and visit days of yesteryear – head to the Spielzeug Museum – Toy Museum, one of my favorite on the walk-about. To save some money buy the three museum pass which gives you a break on entrance fees.
Be sure to check out my "Visions of Nuremberg" photos for more specificity with captions and write ups on all there is to do in Nuremberg… Plus my TripAdvisor reviews will give detailed insight…