Memories of Mykonos Greece
Memories of the Island of Mykonos Greece. We (Phyllis, Chris, Tanya, Tom & I) arrived by the Ferry (the "fast one") from Athens to Mykonos, smooth trip which lasted @2.5 hours. Just like a big plane really with food and drinks. I was told it would not be an issue to get a room when I arrived because there are "hawkers" selling rooms right there in the Port – well except today. So I was a bit stranded but I took the bus into town. Travel Tip: there are standard buses or there is a boat bus – both are 2€, you choose. They both take about the same amount of time. The bus drops off at the top of the main town, the boat in the Old Port. I found a small café with free wifi, ordered some grilled feta and orzo and searched for someplace to stay. Found a wonderful hotel, the Mykonos Hotel Despotiko, not even a block away and booked it. So nice – I have my own patio w/access to the pool, breakfast in the morning, free wifi and a huge shower. Found a liquor store right around the corner and bought a bottle of Cardhu 12yr and I'm set. Oh the next day bought some more of my favorite Partagas Habana Cuba Cigars and NOW I'm really set.
I love just wandering around the beautiful town and Old Port. All the buildings in Mykonos are whitewashed with curved corners. Red or Blue, doors or windows punch an accent to the stark white buildings. It's really something special. The streets in Mykonos are a labyrinth and easy to get lost/turned around in, but that is also cool, because of there are tons of shops, restaurants and little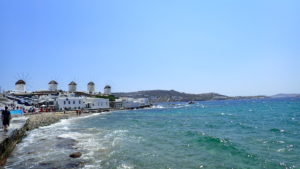 hidden gems (like a small church or Gioras Bakery in a cellar or the most amazing view of the sea). I spent four hours just strolling. Had a large Gyro Pita at Leonidas Snack Bar for only 3€ & Souvlaki for 1.5€ – so I just ate in Mykonos for 4.5€ – not too shabby, considering how expensive it can be and the food was great. They put French fries in the pita though, I find that odd, but it's what is done so go with it. After lunch I strolled back down to the water and enjoyed some wine at Scarpa with a Sea View, yea – that was 7€ alone, but it is my #1 pick for a drink location.
The next day was to be a Mykonos beach day but I had a splitting headache (not normal for me) at 2am so I took some meds and slept in. Then later I took a Mini Bus shuttle to Super Paradise Beach – only 9€ R/T from the bus station, with the perfect drop off in the main parking lot. There I met up with my friends. How beautiful, the secluded cove is amazing: the breeze, sand, water sports, food, lots of drinks and techno music pumping make for an incredible experience. Oh and did I not mention all the beautiful European bikini bodies – ah yea they have them too. Note – unless you just walk up and down the beach or swim it's best to rent their chairs/umbrellas. But still it's beautiful.
The next day I went to the Mythical Island of Delos to explore the ancient ruins – I have a separate blog on that HERE. That night I ate in the Old Port at Captain's and finally got the Grilled Octopus I've been craving & it was so good. Also tried Tarama (Fish Roe Dip) for the first time & it's a winner – so light and fluffy, perfect for dipping with warm pita.
It is easy to be lazy here in Mykonos. Sun, Sea Breeze, amazing food/drinks, funky shops and the labyrinth of whitewashed building – take time to bring your life down so a slow crawl and just enjoy. Be sure to catch the sunset with the 16th century windmills and the ocean in the view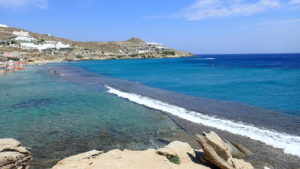 The following day was another easy beach day, instead of the Mini Shuttle I took the public bus, just ½ block from my room to Paradise Beach this time, for only 1.80€ each way, super easy to get there and wow super amazing – another beautiful beach to be sure. Much younger crowd then at "Super Paradise", lot more topless Europeans and even a few totally nude (mostly older men). And no kids – there were a lot of children at Super Paradise. More water sports at Super. Both however are amazing. You can then take the water taxi for 10€ r/t between the three main beaches Platys Gialos, Paradise & Super Paradise. Travel Tip: 20€ for 2 chairs & umbrella at Super, 6€ each chair w/7€ umbrella at Paradise.
TripAdvisor Reviews:
Captains
Island of Delos
Super Paradise
Paradise
Gioras Wood Bakery
Hotel Despotiko
Scarpa – Drink location
Leonidas Restaurant