Mozart travelled to Mannheim and so did I, Memories of Mannheim Germany. Mannheim claims the home of Mozart. He lived here for a time and I can certainly see why. It's a beautiful City. The planners laid out the main downtown area in a grid system which is extremely easy to navigate – everything is alphabetical & numerical. You tell someone you are at C6 and they will walk right to your location. The streets do have names (starting with the sequential letter) but everyone just uses the first letter. The tram system is very easy to navigate and as I will typically do, I rode two of the lines from start to finish. I buy an "all day" pass with unlimited on off options. Then as I ride I take note of interesting looking locations. That way I can come back to photograph or explore. It's a great inexpensive way to see and get orientated in a new City. However, while coming from Frankfurt – I somehow got on wrong train, but 7.90€ & 130min to get back, I started again and arrived without issue. It was a nice ride though and one thing I say all the time is "I've got nothing but time". It's a good life.
Interesting note – in 1878 Karl Freiherr von Drais invented the Bicycle in Mannheim and Benz invented the motor bike (there is a Memorial for Karl Benz near Fridrichspark). In this area, you must visit the Famous 1889 Wasserturm – a 60m sandstone Water Tower and the icon of Mannheim. Photos with the water fountain of Friedrichspark in the foreground are particularly impressive.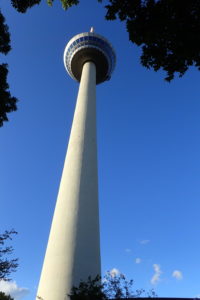 I found less people speaking English, not that it was an issue, just an observation. I thoroughly enjoyed a walk along the river and stopped for a couple of hours in a nice park and watched the water flow by.
Travel Tip – as I have found in most German Cities, recycling pays €. If you take your plastic bottles back to the Grocery, put them into the grinding machine, out comes a voucher to be used in the store. Nice… While there be sure to pick up some Seelen bread or even better yet from a bakery – so good.
A stroll along the Rhine River brings you to many interesting locations and if you venture in just a bit another excellent park is Luisenpark Mannheim. This is where the 337.5 meter Europaturm telecommunications tower stands (can't miss it from almost everywhere in the City). This is a paid park but if you go after 18:00 it's only 1.50€. There is plenty to do though and you could easily spend the day with the family. I enjoyed the swan boats and the petting zoo.
Search out the Planetarium, on the weekends they do Classic Rock shows – Pink Floyd, Yes & I caught Queen, it is a great flashback to the 80's. There is also a Puppet Playhouse – everything is in German, of course, but still an enjoyable show.
Be sure to check out my "Visions of Mannheim" photos for more specificity with captions and write ups on all there is to do in Mannheim… Plus my TripAdvisor reviews will give detailed insight…