I really enjoyed Manchester; here are my Memories of Manchester England. By chance I ended up staying just off the Curry Mile and I was so glad I did, the food was amazing. I had slightly a difficult time finding my Flat, the bus I thought I needed didn't come for almost an hour, so I gave up, walked a ways and went with a different bus number which put me in a different area then I expected. But with a little back tracking I found the place. I was smack dab in the center of the Indian residential area & while at times I thought it was a bit "sketchy" really I had no issues. On the contrary – I met some really great folks, especially my flat mates. There was an amazing chef staying there long term and he made Paella one night that was fantastic. We all went out to eat one night and ended up being out late, laughing, sharing stories and Shish at Al Qaza Shisha (can bring in take away) please say hello to Asmir for me when you go. While there I discovered the main drag where all the buses frequent so getting around became much, much easier.
Being a collage town the public transportation really was easy to use. Beyond the busing there is a tram system which will take you all over the downtown area. But I found walking was the easiest.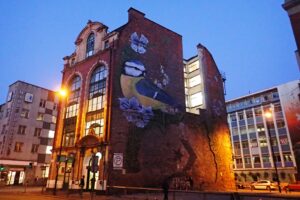 There are plenty of great food options – especially Indian cuisine as indicated above. But the Fish & Chips were some of the best I found (Specifically Kingfisher F&C on Tib). And of course China Town, the options in general are vast.
The night life is also diverse. I visited several "Speakeasy's" (Dusk to Pawn & the Washhouse in particular), dive bars, yuppie palaces, EDM dance clubs, rowdy pubs & slick nightclubs (yes I went out a lot). However the most fun I had was in GAY town along the canal. Do visit this area with an open mind and enjoy. The locals tend to go out in gender packs – the boys being boisterous and the women doing a lot of yelling.
Also there is plenty of culture to keep you occupied. There are several wonderful museums (Free), Chetham's Library which is the Oldest in the world, The Manchester Museum, National Football Museum and Manchester Art Gallery. I also caught a free concert at the Manchester Art Gallery & a Lame Spanish fest in Albert Square. Plus there are plenty of buskers and food stalls in numerous locations in the City Center.
Quick Notes:
Crosswalks have box with indicator
No tipping required
Remember Driving on the Left
Ian at Empire Exchange is the Coolest
I noticed a lot more beggars here "spare change mister?" not that I found it to be an issue, just an observation.
Be sure to check out my "Visions of Manchester England" photos for more specificity with captions and write ups on all there is to do in Manchester … Plus my TripAdvisor reviews will give detailed insight…