Memories of Kaunas Lithuania
I took a very nice walk along Neris River to Old Town and just wandered. The Medieval Castle Kaunas is there, as typical in a beautiful location on the bend of the river. As I walked I found beautiful murals everywhere – some really great (others not so much & all the graffiti is really pissing me off, such a disrespectful eyesore).
I first visited the Ninth Fort & the Monument to Victims of Fascism. Then I ate at a wonderful little restaurant, with décor to take you back a few centuries, right in the middle of Old Town, BerneliU Uzeiga. I enjoyed – Smoked Pigs Ears (for the first time & I liked them, a lot), Old Fashioned Apple & Caraway Juice and Traditional Potatoes Dumpling w/lamb & mushroom – really really good, and filling. As I was leaving, I had a Unique Experience – I saw dozens of kids near the Church. I asked what was going on and they were celebrating "last bell", sort of graduation celebration from 12th grade. They first go to church then to the Town Hall Square for music and celebrating. It was fun. Talked to Dmitri about his drone (same one I have at home) and even had a chance to fly it around, nice.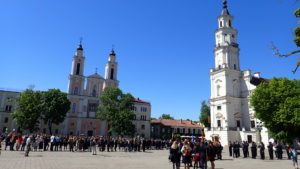 Time for a beer and Avily's Brewery is the place to do it – sat café style on the main street and really enjoyed a ½ liter of their famous Honey Beer, only 4€.
Had a little bit of difficulty finding it, but then went to the Žmuidzinavičius Museum or Devils Museum. This is an interesting, inexpensive museum, with over 3000 paintings, statues, masks & the like – all depicting the Devil. No not Devil Worship, there is nothing scary or nefarious going on there. This somewhat made up for not seeing the Codex Gigas in Sweden.
I thought the buses were interesting – using an overhead power grid, much like a trolley would but free driving – clean, efficient & easy to navigate…
Unfortunately I did not make it to the Atomic Bunker or the Sugihara House as intended, but I thoroughly enjoyed myself in this interesting town in Lithuania. On my last day I spent in the park next to the Bus Station, took a nap and enjoyed the trees, birds and statues. The park was originally a cemetery but was closed in 59' by the Soviets. In one corner is the only Mosque in Lithuania and there are several memorials here. The one that I first saw from the bus, which made me stop to visit, are 40 bronze crosses along with a larger one (Kryžius-medis) and one laying on its side – this is for the patriots who died while standing up against the Bolshevik occupiers in 41'. Going further into the park there is another beautiful 18' memorial, this one of a mother grieving for the loss of the freedom fighters. And finally another large white marble monument surrounded by flowers – this one is for the Lithuanian soldiers who died in wars – with the inscription "Žuvome dėl tėvynės" or "We Perished for Our Country". Interestingly this one was originally built in 1930, but destroyed by the Soviets in 1958 and rebuilt in 1994.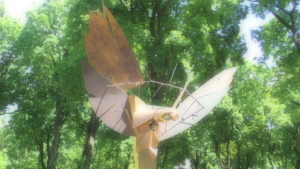 TripAdvisor Reviews:
BerneliU Uzeiga
Avily's Brewery