Memories of Kassel Germany and while I spent several days here, the highlight for me was the  Bergpark Wilhelmshöhe. What a delightful 590 acres Park, easy to walk with well marked trails. Tram 1 drops you off at the visitor's center (the last part of the ride is lovely- going thru the thick encroaching forest), runs @every 30 min. The VC has restrooms, maps, info brochures, several historical photos, a short film, the nozzle of the fountain & a ranger to answer your questions. Note while it is still a beautiful park with numerous interesting features- the main draw is the "water feature" but that only flows one time on Wednesday's & Sundays. There is a shuttle that runs during that time also. Treat yourself to an ice cream or beer when you reach the Grand Cascade. Also note as of today both Lowenburg Castle and the Grand Cascade under renovation and there is scaffold and cranes everywhere – making for a very unattractive viewing.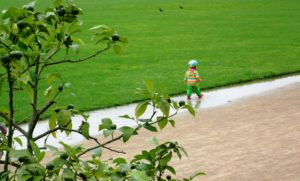 Other then this park, there are several other parks in Kassel worth exploring, specifically Park Karlswiese. Also I loved all the public art – it's everywhere. The City has really embraced it and there are dozens of installations. Most notably during "Documenta" which is an annual event that inundates the town with exhibitions, installations and events. I was lucky enough to just happen to be there during Documenta XIV and ended up going to see several shows and events. I highly recommend visiting Kassel during this time. Some of the installations become permanent and are worth visiting as well. I specifically liked "Man Walking in the Sky" (Documenta 9) and the "Pantheon of Books".
Finally worth visiting while in Kassel is GRIMM WORLD. As expected, the museum is dedicated to the Brothers Grimm, their stores and art. I thoroughly enjoyed this museum.
Be sure to check out my "Visions of Kassel" photos for more specificity with captions and write ups on all there is to do in Kassel… Plus my TripAdvisor Reviews (please add a "Helpful Vote") and YouTube Channel will give detailed insight…