Twice I took the train for a day trip to Heidelberg from Mannheim. Here are my Memories of Heidelberg Germany. It is a quick and easy ride to Heidelberg. Most visitors come to see the 16th Century Heidelberg Castle, as did I but I also love the cobblestone streets and the winding back roads just waiting to be explored.
Take the bus from the train station and then the cable car up to the Castle (the ride is included in your entrance ticket). I found the crumbling red sandstone Castle easy to explore without a guide, the massive Großes Faß or Great Heidelberg Tun is a 58,573.8125 gallon wine Vat, which is quite impressive as is the Große Grotte.
But there is more to Heidleberg then the Castle. If you wander down to the River Neckar you will find the Iconic 1788 Alte Brücke Heidelberg (Old Bridge). Just to the left, search out the Heidelberg Monkey & pose with a photo and pick which spot to "rub" for luck: AtlasObscura. Also note the flood levels marked on the side of the bridge – I sure would not have wanted to be there in 1784.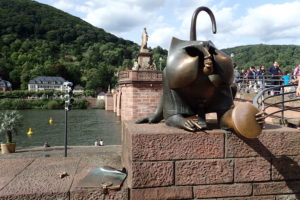 Maybe it's just situational but I get asked for directions – All The Time. The really cool thing is that I can usually help the person out. Even if that just means pointing or confirming with a head nod.
If you have the opportunity, I highly recommend a day on the other side of the river, at the Heiligenberg (Holy Mountain). There is a 55m Medieval Water Shaft Heidenloch as you enter the park, along with Stephanskloster, which about the only thing left of the fortress. But really the Nazi Thingstatte – built in 1934, which had a capacity of 20,000+ is the most impressive feature. It was commissioned by Joseph Goebbels and designed by the architect H. Alker, the amphitheater was used for propaganda presentations. Also wander up to the Ruins of the Klosterruine St. Michael. Bring a picnic lunch and enjoy the woods, trails and view.
Be sure to check out my "Visions of Heidelberg" photos for more specificity with captions and write ups on all there is to do in Heidelberg… Plus my TripAdvisor reviews will give detailed insight…