Memories of Hamelin Germany, what a special place. I went to Hamelin for the day – easy train ride from the city center of Hannover via the S5, it took 43 min and cost 12.30€.
Of course the main attraction is the Pied Piper and his story. There are small brass "rat" plaques to lead you around to all the City sites. There are Piper statues, gift shops galore, and his house. Plus the Hochzeitshaus or Glockenspiel that shows the story of the Piper and there is a play "RATs the Musical" which shows on Wednesday at 16:30 and runs 45 min. I was actually impressed with the play. I was well done (all in German), fun show for the kids and young at heart. Great voices and I even went away humming a tune.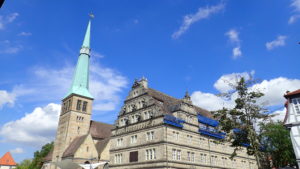 As mentioned above, in the same location is the Pied Piper of Hamelin The Glockenspiel Carillon with Clockwork Figures on the side of Hameln's 17th Century Hochzeitshaus (Wedding House). Daily the Piper does his rounds with rats and children at 1:05, 3:35 and 5:35pm. At 9:35am the bells play the "Weser River" Song and the song of the Pied Piper can be heard at 11:35am, the very hour the Piper visited Hamelin. The Piper is depicted in hunting green on the first circulation and with a cloak of yellow in the second.
But besides all the Pied Piper hoopla – Hamelin the town is wonderful. It is the most quaint town I've been in yet and I loved wandering the streets and seeing all the great buildings. Do walk along the river it's beautiful. Saw the Schauglasbalaserci or Glass Blower. It was 5e for a ticket to see, but I baulked at it and she let me in for free.
Be sure to check out my "Visions of Hamelin" photos for more specificity with captions and write ups on all there is to do in Hamelin… Plus my TripAdvisor Reviews (please add a "Helpful Vote") and YouTube Channel will give detailed insight…