Here are my Memories of Frankfurt Germany. As soon as I arrived in Frankfurt, by FlixBus I saw the Frankfurt Party Trolley. They serve apple wine and tour the City with a fun attitude. It only runs on the weekends but it's a great way to see the City.
As typical, I used the tram, bus and foot power to get around Frankfurt (and the subway but not as much). I really enjoyed walking and found some really interesting places just by chance. The Chinese Garden at Bethmann Park was one of those places – it's a lovely area, locals playing chess and lots of moms with baby prams strolling with friends. Unfortunately the Chinese Pavilion had burned down and that area was closed, still a nice distraction from the City. An even better park is Waldspielpark Goetheturm with the 1931 43 meter tall tower, café, play areas and numerous hiking trails. Definitely go for a grand view of Frankfurt from the top of the tower. I took the 48 bus out there but you could certainly walk.
Frankfurt's St. Paul's Church is especially beautiful at sunset. Along with the Römerberg (town hall square) when all aglow in the evening.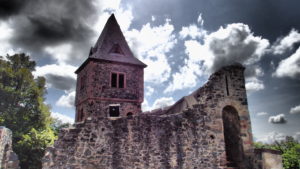 There is a great day trip to Burg Frankenstein – just a short train ride away. I walked the 4.5 miles to the castle, which was mostly along the highway, but the last part was nice thru the woods leading up to the Castle proper. However I would suggest taking a taxi or driving. The Castle itself is a ruin with only a few walls, a tower and a small chapel remaining. There is a café & while the food was good, portions are small and expensive. Be sure to search out the Fountain of Youth. Interesting day trip with a beautiful vista view of the surrounding area – you can even see Frankfurt in the distance.
Apple Wine is the drink of choice in Frankfurt and I was lucky enough to catch an annual Apple Wine Festival in downtown. It was small but there were excellent food vendors and of course lots of Apple Wine. I suggest you head to the Old Sachsenhausen Area for a drink though. This area is packed with pubs and you can really get your drink on here. One of my favorite meals was at Apfelwein-Wirtschaft Fichtekränzi – you have to have Frankfurters in Frankfurt & the Grüne Soße or Frankfurter Green Sauce is to die for, I could eat a vat of it – just with bread.
Be sure to check out my "Visions of Frankfurt" & "Visions of Burg Frankenstein" photos for more specificity with captions and write ups on all there is to do in and around Frankfurt… Plus my YouTube Channel & TripAdvisor reviews will give even more detailed insight…
AtlasObscura:
YouTube:
The Pinkelbaum (Peeing Tree) by F. K. Waechter along Lake Jacobiweiher in the Frankfurt City Forest Oberschweinstiege
TripAdvisor Reviews:
Waldspielpark Goetheturm: Sweet park within walking distance (or bus #48) from downtown Frankfurt, the perfect location for a picnic. There are several nature trails, playgrounds for the kids, a fountain & a small restaurant. The highlight is the 43 meter (196 steps) wooden watch tower built in 1931, which gives an amazing panoramic view of the City. Really spectacular & free.