I find the words are much harder to decipher and I actually think they are just messing with the rest of the world with their spellings (I would) – LOL. Oh and a casual observation, the Mohawk is not dead for men, plus the ripped jeans/exposed kneecap is extremely popular with the ladies. Maybe this is everywhere but I've noticed a lot more here.
Travel Tip: Tram etiquette – give a wave to the tram driver so he knows to stop for you (which are not as "on time" as the last several countries I have been in). You may have to push the button on the door to open (both from the outside & inside). I am not suggesting anything, and I did have a multi-day public transportation pass, but my pass/ticket was never checked – not on the bus, tram or even the ferry – just an FYI. Also do the right thing and give up your seat for the grandma's.
I am rushing way too much, right now but I want get to Poland to meet up with the relatives again. After that I plan on slowing down – considerably. I did enjoy walking around Helsinki though, especially on the Suomenlinna Fortress Island which you reach by ferry, around the Toolonlahti Lake Park and also Alppipuisto Park.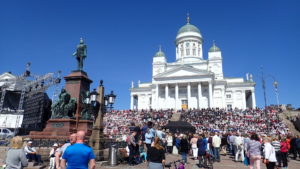 But in the few days I was here in Helsinki I was able to visit: The UNESCO Old Town with its large dominating buildings.
The Tempprlaukio or Rock Church, having been built inside a huge rock face as a backdrop. I was lucky to be there without too many Oriental tourists and the organist was practicing so I received a free concert, very cool.
The Suomenlinna Fortress Island which is accessible by ferry, included in your bus pass. I really liked it out there, quiet and not too many tourists. There were several groups of locals having picnics on the grass near the coastline. I wandered around and found a secluded spot (actually I don't think I was allowed there but what the heck) and just soaked up the Vitamin Sea.
Old Market Hall was a lot smaller than I expected but still had all the bread, meat, cheese, seafood and deserts you need. And upstairs are clothing and knickknack shops. However outside in the courtyard is a perpetual flea market – one day as all antiques, clothing and garage sale stuff. The next was a flower and fruit/vegetable market.
Uspenskin Cathedral, of course is beautiful, and the really impressive Senate Square Cathedral. The first day I was there, just happened to be the day of a free concert and ministry by Cantores Minores. I would estimate @3000 people were there.  Inside the National Library is impressive, as is the Parliament building. If you make it to Parliament also check out the National Museum, Finlandia Hall & the Opera House. One of the days I was up there, they had a free concert at the waterfront for a breast cancer run. You never know what you will find, when you just wander and look.
Travel Tip: Tram 7A or 7B back take you to all of these stops.
If you have made it this far you might as well keep going up the street to the Olympia Stadium and then over to the Linnanmaki Amusement Park which opened in the 1950s. It is free to enter, just pay for the rides. Alppipuisto Park is up there also.  Market Square and the Port are interesting – there a multiple food vendors and art/trinkets/souvenirs for sale, plus a beautiful 360 view of the area.
I also found the Simbellous Monument, dedicated to the composer – which I didn't really care for. But for a little bit of whimsy search out the very tall "Bad Bad Boy" sculpture by Tommi Toija, depicting a little boy peeing. Too funny – he looks "caught" doing something very wrong. Speaking of which, when you do have to "go", be sure to do it at the Penthouse cocktail lounge of the Tomi Hotel. There you will find one of the best views of downtown Helsinki.
Travel Tip: it's hard to find (best to search out the small tucked away elevator) but on the rooftop on the 8th floor of the 1930's Stockmann Helsingin kreskusta 164,000 sq ft shopping plaza there is a very inexpensive sushi restaurant and of course those famous open face sandwiches. My favorite has certainly become the salmon – just can't get enough.
Be sure to have at least one Lonkero, which seems to be the National drink (Gin and Grape Tonic). And I really enjoyed the super cold Sinebrychoff Long Drink, which is so refreshing. One of the best mycologist bars is A21 Decades. Check it out and you will find the most beautiful drinks, at a price of course. There is also a Casino with beautiful women, mutable/large screen showing all the games (I caught a Pittsburgh Hockey Game and a Soccer Game) and plenty of opportunities to lose your money. For a much less expensive option – hang out in Kallio and up and coming Hipster area. This is the place to try Lonkero and do have a falafel pita (the best one I have had to date, anywhere) at Just Vege &/or pizza at Apollo Pizzeria across the street. Just be sure to wear your leather, have your hair in a man bun and show off your tattoos/piercings.
Five for Free:
Linnanmaki Amusement Park
National Library
Suomenlinna Fortress
Bad Bad Boy Sculpture
Bathroom view from the Tomi Hotel penthouse cocktail lounge
Five Ways to Save Money:
Just Vege – Middle Eastern food on the cheap
Market outside Market Hall – local products low price
Casino to watch sports – free entrance, just buy one beer & make it last
Common suggestion but use the Tram system for a huge savings
Picnic in one of the many Parks
TripAdvisor Review:
Be sure to Check out my TripAdvisor Reviews (please add a "Helpful Vote") and YouTube Channel which will give even more detailed insight…