Memories of Dubrovnik Croatia, you need to take the bus from the Airport to the main town. It's a beautiful ride though – be sure to have a driver's side window seat. Love all the carports & patios covered in grape vines. I also cannot believe how the buses make it through the streets – it is literally like threading a needle. Cost is only 40k to town.
The bus system is easy and efficient. Buy a multi-day pass and ride as you need. I do suggest getting out to the far side of the town. There are some beautiful beaches and a nice port (I actually stayed at the port – right on the water, Airbnb for only 42€).
The town is unreal – really it's unreal. You would think it's a made up Disney World or movie set sort of place. But – it's real. I love the small alleyways and the steps leading up into the back areas. Be sure to get off the main drag and walk everywhere – you never know what you will find. Because of Game of Thrones using the town for location shooting – you can't turn around without someone trying to sell you "something" about the show. From tours, tee shirts or costumes they have marketed everything. I've never seen an episode so I can't relate. But I can understand why they are using the town – it's so authentic, no sets need to be built.
This best Ice Cream, in my opinion is from "Sladoledarna". I also recommend "Pink Shrimp" for the Shrimp Tartar & a nice local wine. "Fast Food Presa" – best place for an inexpensive meal – get the Cevapi Sausage Sandwich (with Lettuce, cucumber, onions & Ajvar (mild red pepper jelly) and you have a full meal for only 30k. Also "Oysters & Sushi Bota", get a ½ dozen local Mali Ston Bay Oysters w/Jamison Black for only 9€. And the number one best place for a cold beer is "Mala Buza Bar". It is hidden away but directly on the cliff face w/panoramic views of the most amazingly blue sea. You can cliff dive from here also.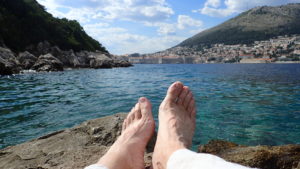 .Take the Ferry to Lokrum Island 120k r/t – trips leaves the Old Port every 30min. The 1st boat leaves the Harbor at 9:00 & last returns at 19:00. It is a wonderful way to spend the day – peaceful & nice walk/view. On the island there are lots of Rabbits and Peacocks. Note their largest concern is fire, so heed the signs and don't smoke. You will notice fire hoses all over the island – just in case. The "Walk of Paradise" is not – go around the back way in the shade and down the "Paradise" path, you will thank me later. Also just past the Cross is a secret beach – if lucky, you will have it all to yourself for a swim in the emerald green Aegean Sea.
I went to the movie; the theater is right down town, next to the Clock Tower. Watching "Wonder Woman" in 3D Dolby Surround sound for 30k (that's like $4.50). The movie started exactly on time, with no previews, subtitles in Croatian, I totally enjoyed.
I met up with a dear friend of mine Susan Vice & we walked the Dubrovnik City Walls together. The whole trail took about 2.5 hours, but we took our time & caught up on life. Wonderful to see her, kindred soul.
And the walk was fantastic. The Wall Walk normally takes about 1 ½ hours, it is 2k full circle, go between 9a-11a or after 5p to beat the heat and crowds. Wall closes at 7:30p, I went at 4pm with Susan which was perfect. Hang on tight to your ticket as you will get checked at least four times. Bit expensive at 150kn but worth it (especially with a good friend).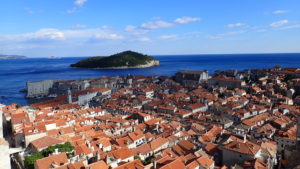 Don't even bother to visit Old Town during the day – too hot and too many cruise ship tourists. Go after 5pm and have a nice day of it. Especially don't "walk the wall" during the day – too crowded and too hot.
The Cathedral Treasury is totally amazing. Note read the descriptions and see "Jesus Diapers" is the translation for his swaddling clothes on display. Free into cathedral but 20k to visit the treasury – so worth it
Travel Tips: always take your own carry bag – will save $ at the market. I use this one.
I don't think I will ever get used to raised thresholds in Europe, freaking killing my feet. Also the light switches seem opposite to me – down for on. Don't be a stupid tourist & stand at a crosswalk but don't cross – cars & buses will stop to let you go. Be sure to try Pelinkovac – I didn't really care for it but it's the National Drink.
TripAdvisor Reviews:
Konoba Bubrava
YouTube Videos: