Really loved Brighton England, walking along the coastline, the sound of the waves crashing into the shore and then the rustle of rocks as it retreats backing away is mesmerizing.
In Brighton England recommend the Bees Mouth for a Cool Laidback pub, the Hobgoblin for Tuesday Tequila (say hello to Abby for me) and MEATliquor for Happy Hour with 2-4-1 drinks. Also, Paris has live Jazz most nights.
The Booth Natural History Museum is a great diversion for an hour or so. The collection of taxidermy, mostly birds, is impressive. I like how they are displayed in "real life" poses. Most shown with kills or feeding.   Also shown in flight and they have even detailed droppings on the rocks and trees. Bird sounds (an hour's worth on a loop soundtrack) throughout is a nice touch. There is even a Dodo bird on display, well parts of one…   Big bonus it's free admission.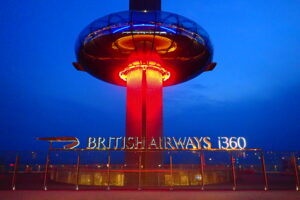 Take a ride up the British Airways i360 for a really impressive view of the town and ocean. Costs £16.50 to go up, but what a ride.
Thoroughly enjoyed the Mechanical Museum in Brighton, with its penny arcade machines. Right on the shoreline walk, but easy to miss. The pier is worth a walk as is the whole coastline. There is a free Fishing Museum and a few places selling fresh fish, cockles & other muskets.
Other than the shoreline, my favorite place is called the Lanes. Wandering up and down the back streets of this area will surprise you with wonderful little shops, eateries and secondhand stores. Graffiti on the walls add to the bohemian feel for the area and it should not be missed.
Unfortunately, I'm in Brighton in October and due to a hurricane, it's been rainy and grey the whole time I've been here. Also, the first day here there was a cloud of sand from the Sahara that cast the whole town in a dark colorful haze. It was a bit scary with the sky turning from bright blue to grey, yellow, green then red, back to grey. Yet I have still enjoyed myself and haven't let the weather impact my fun.
Be sure to check out my "Visions of Brighton England" photos for more specificity with captions and write ups on all there is to do in Brighton England… Plus my TripAdvisor reviews will give detailed insight…