Memories of Bordeaux France, I went over to Bordeaux from Paris via RideShare 32€ – it was great, I really got to see the countryside. We passed miles and miles of farmland and dozens of huge modern Windmills. No wifi like on the bus or train but great conversation and the road traveled was great.
Travel Tip: Buy the Bordeaux 7 day Tram/Bus/Ferry Pass for 13€ – huge savings. Also you can rent a bike for 2€ per hour w/1.50€ 24hr access. The bikes are everywhere w/magnetic holders, just punch in your code (check out the bike first for proper air pressure, brakes & seat adjustments) and off you go. Deliver anywhere and the clock stops till your next ride. First 30 min are free…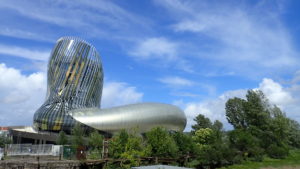 Perfect location for a my Flat, adjacent to a daytime bar and the Train/Bus station (which is very modern and quite at night) for 32€ per night, 7 day Metro/Train/Bus/Ferry pass 13€ (only need for 3 days but better savings still divided by 1/3 on my budget), Dinner of Croquet Landais & Drinks for 16.50€ – total for the day = 55.62€. Boom that's what I'm talking about. In Bordeaux France at that…
It is a little overcast the last few days here in Bordeaux but cool with a beautiful breeze. Took the Metro C all the way thru the Old Town just to get my bearings and to see what & where it goes. Follows the La Garonne River and all the way out to the Stadium, where I will be tomorrow for the Celine Dion Concert.
The mayor has really stepped up the City's game. The infrastructure is excellent and just getting better. The metro is easy and efficient, as is the rest of the public transportation. There are basically three districts (from south to north changing with the political views – as explained to me by my Host). I love the huge stately buildings in the middle, the Place de la Bourse and the labyrinth of walkways filled restaurants, bars and hidden gems, like L'Autre Petit Bois which has the most AMAZING simple delicacy the area has to offer: Croque Monsieur a la Chèvre ey a la Muscade (Foie Gras Cream, Jarmon & Emmental Cheese).
Really the main part of the City, well actually most everywhere I covered – which was a ton, is well laid out amazing urban planning. They have signage everywhere – wow what a concept. Street corners are actually marked with the streets that are there (Athens take note – that City totally SUCKS for street signage). Plus directional signage and maps of the area and "you are here" on them – thank you, so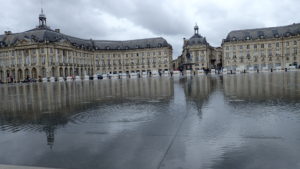 damn helpful. There are indicators for the blind, trash receptacles everywhere, pay toilets (although I just duck into a stupid American fast food chain like McDonalds and Piss there for free – the only thing those restaurants are good for as far as I am concerned – yep to take a dump in, oh and sometimes free wifi). Only complaint is as a general rule the Wifi sucks after 12m.
You will see everywhere "Bluecub" Cars. Bordeaux is one of the first cities to have a vehicle 100% electric car sharing service, self-service and direct track available 24/7 with 250 km. Great concept that I'm sure will take off, same as the bike rental has.
Just some Notes:
Local Liquor is Get 27 – totally Green & totally kick butt
I enjoyed the old school Carousel near Opera House
Miroir d' Eam (3450 sq meter – Water Mirror) – every 23 min fog – must check out at night
La Cite du Vin Building w/self-serve wine sampling dispensers (dangerously easy to rack up a bill)
Whole rotisserie chicken 2€ Bagettete .80€ bottle of red 6€ – a meal for under 10€
Cathedral St. Andre w/Gargoyle Belfry
Milo's Bar – best Dive Bar in the City w/Caipriinha & Deep Purple on the soundtrack
L'Entrecote only serves one thing – Steak & Fries. When you only do one thing, must be good
Love their Cacolac Drink – get it in the bottle & ice cold (much like Yoo Hoo)
Dessert = Riz au lait à l'orange – Orange Rice Pudding
Symbiose – speakeasy w/amazing food
The Sanna Sculpture – Interesting, right by the Opera House
Submarine Docks are worth searching out
It is absolutely wonderful right now I am in my adorable flat in Bordeaux France with the windows open to the courtyard & it is pouring rain outside. What a wonderful sound in the cool breeze is coming into my room I'm finishing a bottle of wine enjoying the end of the day wonderful day spent visiting is a dear dear friend of mine, shout out Shari Weber – currently on tour with Celine Dion..
TripAdvisor Reviews:
Be sure to check out my "Visions of Bordeaux" photos for more specificity with captions and write ups on all there is to do in Bordeaux… Plus my TripAdvisor reviews will give detailed insight…