IcelandAir First impression – Friendly, efficient & clean.
Here I am in JFK getting ready to board my, now 3rd flight due to the weather and being routed and delayed in Boston for 5 hours. The beautiful attendant at the check in counter asked if I wanted a seat by myself- um yes please. So I'm sitting with an empty next to me & I can actually lie down &/or stretch out to sleep. I only have carryon baggage and as long as it fits in "the box" you are all good (they didn't check the weight – although I'm right at the @10kg restriction).
Hartzog Hack:  you can cheat the weight restriction by having a second shoulder bag with the heavy liquids, plus it's easier at security. Also stuff your jacket pockets if need be…
I was greeted at the cabin entrance with a bottle of water and a friendly hello with directions to my seat. Each seat has an interactive TV w/music, movies & games. Plus power for a USB connector. Don't forget your headphones or buy theirs for 8euro. Wi-Fi is 9.70euro. Very comfortable seats with wrapping head rests, plus there is a blanket & pillow on every seat.  Also a nice touch – if you don't want to carry that now foreign currency/coins they have an envelope to donate it to the "Special Children Find".
Note – if you sit on the left side of the plane you will see the sun rise.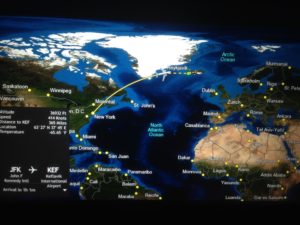 Don't forget to stand & stretch periodically to keep the blood flowing into your legs, feet & hands. And do sleep to help with the jet lag.  Although there are first run movies on the screen in front of you if you want to catch up on those…
Met the Allison's sitting behind me. Business partners (appleseedsplay.com) from NYC going on a mystery vacation, an annual holiday that starts at the airport & a roll of the dice to decide where to go. My kind of spirit.
Tip – if you only use an electronic ticket for boarding – take a screen shot. Trust me it will come in handy if your flight is messed up and you're now past reservation information is not available.
Hartzog Hack:
Bring your own food/snacks to save from buying the expensive items on the plane. And even better bring your own mini bottles of liquor (under 3.2oz security restriction) for a big savings – 8euro on the plane. I've been doing this since 2002 – not once has it been an issue. Finally don't forget to fill your Vapur Water Bottle – hydrate hydrate hydrate.