So here I am in another wonderful German town, Hannover Germany Memories will follow…
As I walked around I found many many hidden gems. If you check out my "Visions of Hannover" you will see for yourself. All my photos have descriptions so it's easy to navigate. Look for the Red Thread, which is the tourist trail. This will guide you along to all the "hot spots". Some things you may not discover on your own are the Marktkirche, which is the church with a pentagon on the side. Not for Devil worship as many think. Symbols have changed meaning over time and this one certainly has. Nearby are two statues of people standing with umbrellas which "rain". It's fun and whimsical, the bronze sculptures were done by Ulrike Enders in 1983 it's titled "Two People in the Rain". Also find the Nanas Sculptures by Niki de Saint Phalle.
Other points of interest are the Holzmarket, Old Town Square, Aegidren Church & Neues Rathaus which is the New Town Hall built in 1913. Die Aegidienkirche is a bombed out church, never repaired as a reminder of the war. Do go and pay respects and keep the memory alive. "Never Forget" so it Never happens again.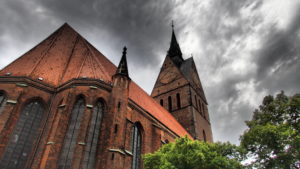 I just happened to find, along the Hannover Lake shore, a month long Maschesee Lake Festival. It looks permanent with its restaurant structures and even flooring but it is entirely a temporary event. Tons of actual sit down restaurants, vendors, bier gardens and music stages all along the Lake Maschesee. To be honest, I was a bit disappointed. There was not much variety to the food options and that is really all there was – food & drink. The entertainment was also lacking.
So I found other entertainment in Hannover. I love Rockers bar, although it is set smack dab in the middle of the seedy "sex club" area. Also Musik Theater BAD is a great live music venue situated in an old public pool. Super location I just wish it was not raining the night I went it would have been a cool experience.
I ate Pig Knuckles for the first time at Krauses Schweinehause. The meal was a HUGE portion, although a lot of fat, super crispy outside skin and perfectly cooked meat. The meal came with potatoes, sauerkraut, beer and a shot of schnapps on the house. All for 10.90€, well worth it – I was stuffed.
I also went to Hamelin for the day. It's an easy train ride from Hannover City center via the S5. Took 43 min and cost 12.30. See "Memories of Hamelin" & "Visions of Hamelin".
Be sure to check out my "Visions of Hannover" photos for more specificity with captions and write ups on all there is to do in Hannover…  Plus my TripAdvisor Reviews (please add a "Helpful Vote") and YouTube Channel will give detailed insight…
TripAdvisor: